Utter soon ran a mail express service between Deadwood and Cheyenne. He and his other riders carried letters for a fee of 25 cents each. Unfortunately for Wild Bill, Charlie was doing business on August 2, 1876 when Jack McCall murdered Hickok while playing cards in the Number 10 Saloon on Deadwood's Main Street. As soon as he heard about the shooting, Charlie rushed to the saloon and claimed the body.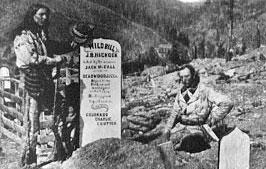 Utter placed the following notice in the Black Hills Pioneer:
"Died in Deadwood, Black Hills, August 2, 1876, from the effects of a pistol shot, J. B. Hickock (Wild Bill) formerly of Cheyenne, Wyoming. Funeral services will be held at Charlie Utter's Camp, on Thursday afternoon, August 3, 1876, at 3 o'clock, P. M. All are respectfully invited to attend."
All day people filed past Wild Bill's coffin, paying their last respects. During McCall's murder trial, Hickok was laid to rest in a plot paid for by Charlie Utter. The marker read:
Wild Bill, J. B. Hickock killed by the assassin Jack McCall in Deadwood, Black Hills, August 2, 1876.
Pard, we will meet again in the happy hunting ground to part no more.
Good bye, Colorado Charlie
C. H. Utter.
Charlie returned to Colorado in 1877, but came back to Deadwood several times in the next year. He oversaw the relocation of Wild Bill's body to Mt. Moriah Cemetery in 1879 and lost all of his property to the great Deadwood fire on September 26, 1879.
Charlie returned to Colorado shortly thereafter, then seems to have dropped out of view, although his biographer Agnes Wright Spring traced him to Panama after the turn of the century. Spring believed he was known in that locale as Dr. C. H. Utter. It is not known when or where Utter died.
Charles H. Utter—trapper, hunter, gold prospector, mine owner, express rider, transportation businessman, gambler—a man of diverse abilities as well as a true friend of Wild Bill Hickok.
Sources:
Adams Museum
"Pioneer Days in the Black Hills" by John S. McClintock
"The Black Hills After Custer" by Bob Lee