The Black Hills are quickly becoming a major fishing destination for people all over the nation. The numerous locations to fish boast a variety of species. These include: rainbow, brown, lake, and brook trout along with walleye, yellow perch, crappie, and bluegill. In fact, 100 different species of fish call South Dakota home.
Fishing in the Black Hills is a year-round activity perfect for family outings or solo adventures, not to mention the health benefits. During the summer, fishing from a rental boat or hiring a guide is an excellent way to enjoy the weather. When winter descends, ice fishing is an exciting way to vent some cabin fever. No matter the time of year, morning and evening are the best times to get out on the water.
There are many places to fish in the Black Hills, but here are a few go-to areas that will keep anglers coming back again and again.
Rivers, Streams, and Creeks in the Black Hills
Spearfish Creek
Spearfish Creek starts deep in the Black Hills and winds through Spearfish Canyon down through the town of Spearfish itself. The creek is known to hold good populations of brown and rainbow trout. A rare brook trout may make its way into the creek from one of the feeder streams that flow into it. Fly-fishing is one of the best methods for catching fish from this creek.
Open for fishing year-round, this stream is often a go-to for its excellent fishing and easy access. Fishing the section that runs along City Park or Evan's Park are great locations to start casting. There are many roadside pull outs along Spearfish Canyon that also provide picnic tables and rest spots for the traveling angler.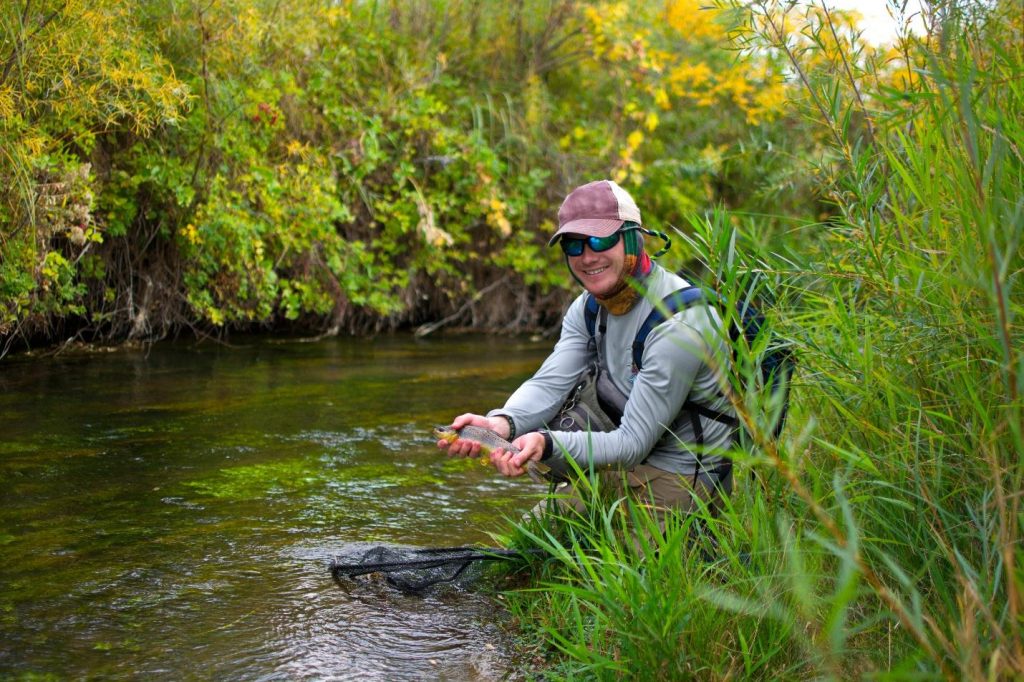 Rapid Creek
Rapid Creek flows into Pactola Reservoir and into a spillway that offers great fishing. The stream then meanders for miles before flowing straight through Rapid City on its way out to the prairie. Like Spearfish Creek, the fishing is phenomenal for brown and rainbow trout and is easily accessible year-round.
An angler can follow the stream through town beside one of the many paths and trails that run alongside it. Downstream from the Braeburn Dog Park is a good spot to walk the stream just before it hits the town of Rapid City. Just make sure that you're casting your lines outside the dog park itself. Kids and dogs frequent the shores and water in the park and lost hooks and fishing line pose a risk to little feet or snouts.
An angler could also go to Jackson Park and fish the stream as it runs alongside the paths.
Spring-Fed Creeks
Don't hesitate to explore the many spring-fed and natural feeder creeks that bubble throughout the Black Hills. Streams like Iron Creek and Cleopatra Creek that flow into larger rivers often offer excellent fishing for brook trout. During fall, when the brook trout and brown trout are preparing to spawn, the vibrant red and orange colors of the trout are a wonderful reflection of the changing seasons. These numerous small streams offer the adventure and solitude that some anglers crave.
Fishing Lakes and Ponds
Iron Creek Lake
Iron Creek Lake is just 20 minutes from the town of Spearfish deep in the northern hills. Though small, the lake manages populations of largemouth bass, crappie, bullhead catfish, rainbow trout, yellow perch, rock bass, and bluegill.
The lake is easily walked to via a footpath that rings the entire body of water. For first time boaters just getting used to their watercraft, this lake is the perfect size. It also boasts a handicap accessible fishing pier and a swim beach for those midsummer lake days.
Traffic can be high in the afternoons, so plan on fishing this lake early in the morning. While the pier can be a good spot, fishing off the dam face can also be an excellent option.
Roubaix Lake
Roubaix Lake is a great lake for a family camping get-away because it's perfect for new anglers. The size of the lake coupled with the eager rainbow trout stocked here makes it a good place to start.
Amenities include a campground, potable water, and bathrooms that sit near the lake offering easy access for campers.
Horsethief Lake
Horsethief Lake nestles in the hills only two miles west from Mount Rushmore on SD-244. It's known for its rainbow trout fishing, but the lake also carries good numbers of bluegill. The lake is easy to get to by vehicle and is a good spot to stop for a picnic and a quick fishing trip.
The lake has a nearby campground and boasts ADA accessible fishing piers so everyone can enjoy fishing at this pristine location. The trail that surrounds Horsethief Lake is perfect for someone who likes to hike and fish.
Sheridan Lake
Sheridan Lake is located just 18 minutes south of Pactola Reservoir on Highway 385. Due to their proximity, the two lakes are often fished on the same day. Die-hard anglers often spend the morning at one lake, and the evening at the other.
Where Pactola Reservoir is primarily a cold water fishery, Sheridan Lake boasts a high number of warm water species. In fact, walleye were recently introduced to this fishery and in a few years, the walleye fishing should pick up. Other species in this fishery include yellow perch, bluegill, crappie, northern pike, rock bass, largemouth bass, and smallmouth bass. Anglers also have a chance to catch a goldfish-looking species called a European Rudd that is invasive to the area.
Sheridan Lake also has camping, boat ramps, and bathrooms available along with several fishing docks. A good spot to try is the Sheridan Lake Fishing Piers that sit just off Highway 385. These are easily accessible and offer great fishing for many species in the lake.
Pactola Reservoir
Pactola Reservoir is one of the most well-known fishing destinations in the hills. Just 15 miles outside of Rapid City, the lake has large populations of rainbow, lake, and brown trout along with yellow perch, bluegill, and northern pike. In 2013, the South Dakota state record lake trout was caught from these waters.
With some areas 200 feet deep or more, the lake has the coldest water in the Black Hills. Pactola gets its name from an old mining town that once thrived in the canyon before the reservoir was dammed.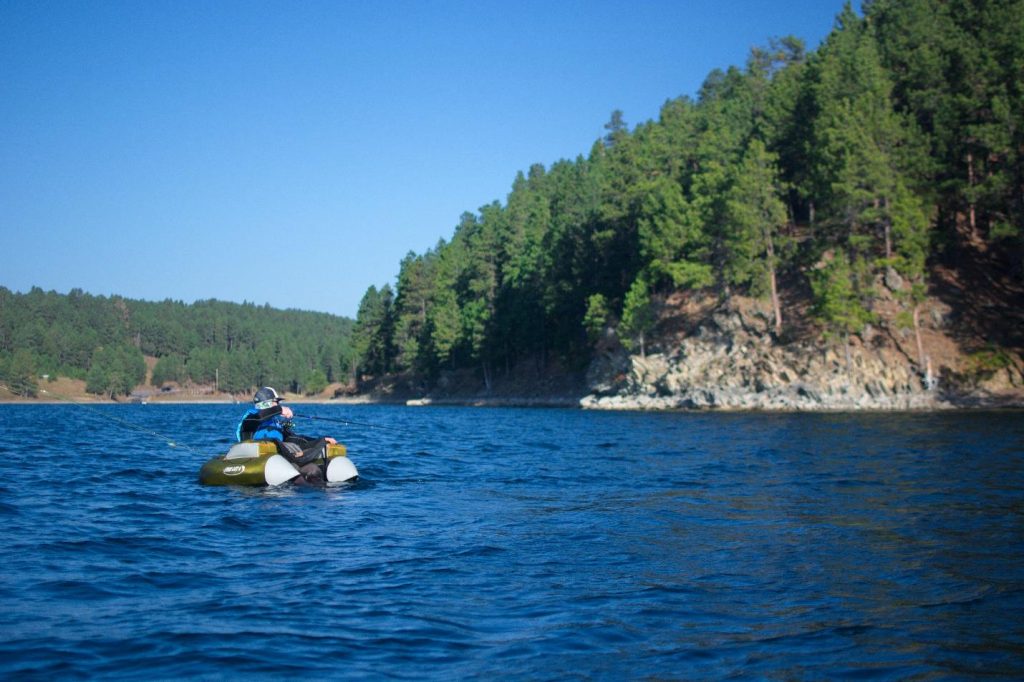 The lake has a few amenities. There is a full-service marina, two boat launches, a swimming area, and plenty of shoreline access. There are also several campgrounds that have close spots beside the lake.
This lake is a popular fly, boat, and ice fishing destination depending on the season.
When deciding where to fish, any of the many pullouts along the road surrounding the lake are good bets. However, some local favorites include Pactola Point, Pactola South Access Area, Veteran's Point, and Jenny Gulch.
Deerfield Reservoir
For anglers looking to get off the beaten path, Deerfield Reservoir is an excellent option for camping and fishing. One way to access it is by taking Deerfield Road out of Hill City. This road will lead you to one of the many access points that ring the lake.
The reservoir holds high numbers of rock bass and bluegill that are perfect for new anglers. Alongside the rainbow, brown, and lake trout in this body of water, the reservoir also has a large population of brook trout and yellow perch that some anglers report are the best tasting fish in the area.
This lake is a popular camping destination with three different camping areas available: Whitetail campground, Custer Trail Campground, and Dutchman Campground. Each location offers something different, so do your research before deciding which campground will fit your needs the best.
Custer State Park
Custer State Park has five lakes: Center, Legion, Stockade, Sylvan, and the Game Lodge Pond. These five lakes are popular destinations for Custer State Park visitors who are also hoping to fish.
These lakes have rainbow, brown, brook, and cutthroat trout, and some have a unique species called a tiger trout. The tiger trout is a sterile, hybrid mix between the brook trout and brown trout. Some anglers actively search for this rare species so that they can check it off their bucket list. It is characterized by its leopard-like skin mottling and beautiful golden underbelly.
If you're planning a family outing and want to know more about the amenities or activities at local lakes, check out our in-depth coverage of lakes of the Black Hills. Or for camping, check the best places to camp in western South Dakota.
WORDS AND PHOTOS: HIROTO HAYASHI