Wherever you go fishing in the Black Hills, there are a few go-to techniques and tips to catch more fish out on the water.
Lake and Pond fishing tips
To fish with baits on the bottom, use a slip sinker rig with an 1/8 ounce egg sinker and a size six baitholder hook.
When using worms, pinch or cut the worms in half and thread the worm onto the hook.
When using powerbait, you will have the best luck on red, orange, or pink colors in the hills. Put a dollop of putty in between your hands and roll it into a ball about the size of a marble. Then, push it around the hook so that the hook is hidden inside of the powerbait.
For both these techniques, cast the rod as far as you can and lean the rod against something. Then, reel in the slack line so that your rod tip has a slight bend in the tip. This way, the line will translate any bite on the bait, whether it's a little nibble or a big take.
If fishing on the bottom doesn't work, use the same rig, but attach a bobber a foot to a few feet above the bait so that your bait hangs in the top part of the water column. Sometimes, the fish are looking up and take nothing on the bottom that day.
If you want to fish with lures, spinners, spoons, jerkbaits, and spinnerbaits will catch just about every fish in the hills.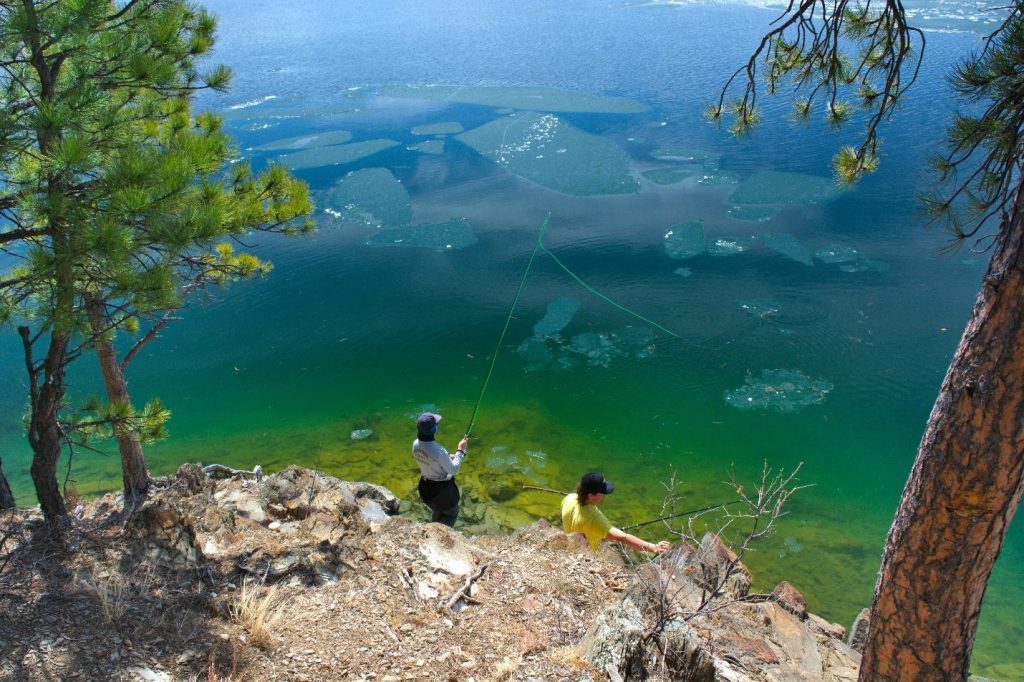 For fly fishermen, paying attention to fish behavior and matching the hatch is the way to go. A few effective Black Hills fly patterns include the Elk Hair Caddis, Adams, Stimulator, Dave's Hopper, Hares Ear Nymph, Brassie, Zebra Midge, Wooly Bugger, Zonker, and the Clouser Minnow.
These baits and lures will keep your fishing rod bent and a smile on your face.
Black Hills River and Stream fishing tips
Fishing in moving water can be a little difficult for new anglers. However, there are a few techniques we can use that are just like fishing in Black Hills lakes and ponds.
Fly fishing is a good way, if not the best way, to fish rivers and streams because of its adaptability to any set of fishing conditions. It was originally invented for moving water and remains a popular way to fish rivers and streams in the Black Hills. The patterns mentioned above are also perfect patterns for stream fishing.
With non-fly fishing gear, there are two methods that many anglers use.
The first method is to use a worm. Put a size 8 baitholder hook on the end of the line. Attach the bobber on the line above the hook approximately one and a half times the depth of the water you'll be fishing. Then, use two to three split shots spaced a few inches apart from one another as weight. For this method to work, cast upstream into the water's current and let the bobber drift down slowly, reeling in the line to pick up slack. If the bobber goes underwater or pauses at all, set the hook.
The second method is using lures; lightweight spinners, spoons, and soft plastic jigs are known to take fish all year round. Cast upstream and let the lures drift back in the current, reel it across the river, or do a mix of the two reeling and pausing to give the bait some action. When the bite comes, hold on tight because it will be aggressive.
Look for deep pools or the eddies behind rocks and boulders, as that's where the fish will hold waiting for food.
Before you go
Make sure to buy a fishing license. Licenses can be purchased online or at many license retailers and sporting goods stores. These are mandatory for residents and non-residents who are 16 years of age or older.
Residents who are less than 16 years of age may fish without a license and keep a limit. Non-residents who are less than 16 years of age do not need a fishing license as long as their parent or guardian has a valid South Dakota fishing license. The youth's daily limit and possession limit are included with their parent or guardian's license.
For beginners, you can try heading to a restaurant that provides private lakes for fishing and will cook the fish after you catch it. You do not need a license for these facilities, and all equipment is provided. Options include Trout Haven Resort or the Fish 'N Fry Campground in Deadwood.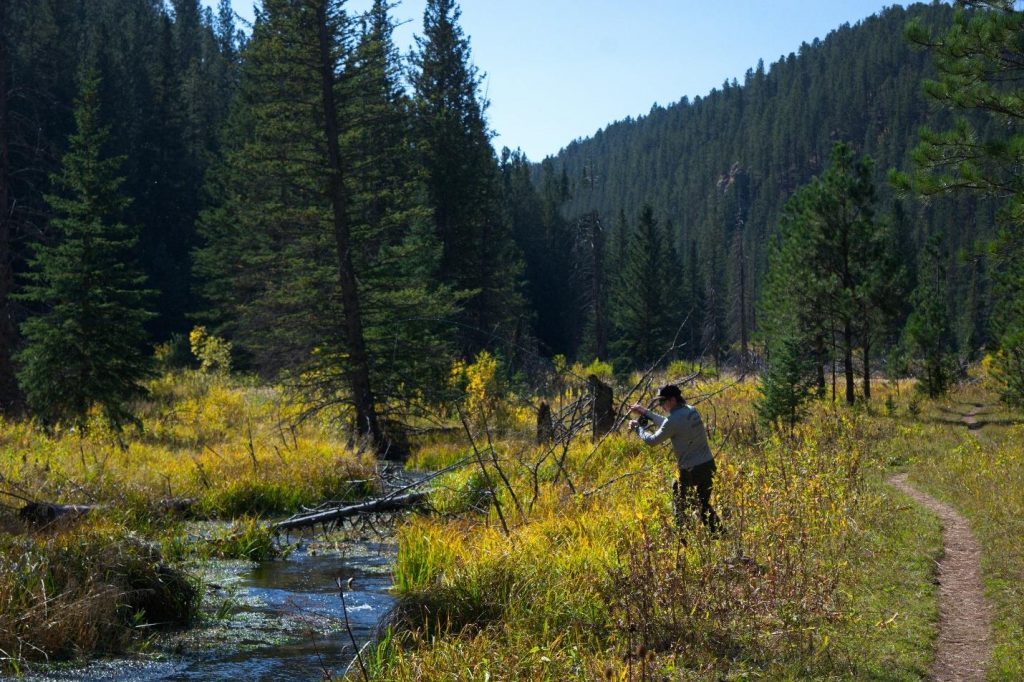 The Game, Fish, and Parks Outdoor Campus West in Rapid City often offers fishing courses for new anglers and teaches everything from fly fishing and tying to rod building and reading the water. If no courses are available, you can call to schedule a group class on the topics that interest you. These courses are often free unless otherwise stated.
Stop in at local sports shops to buy fishing equipment, licenses, and area maps. Talking to local anglers is an excellent way to meet new friends, find new areas, and learn more about fishing in the Black Hills of South Dakota.
If you're ready to start fishing and not sure where to go, check out the top fishing spots in the Black Hills.
WORDS AND PHOTOS: HIROTO HAYASHI