There are hundreds of known caves in the Black Hills. We have the first cave to be declared a national park (Wind Cave National Park), the third longest cave in the world (Jewel Cave National Monument), and many more besides. If you've ever wondered how to get started in caving, you aren't alone! And luckily, the Black Hills are a bona fide playground of caves. 
While caving may seem as simple as an easy hike, it can be a dangerous activity if you aren't properly prepared. We asked Adam Weaver, the current Vice President of the National Speleological Society and Vice Chair of the Black Hills' own Paha Sapa Grotto, for tips on how to stay safe and explore the world of caving.
Black Hills Caving for Beginners
If you're new to caving, Adam's suggestion is to start with a guide. There are two options available to you: first is taking an organized tour at well-established caves, and second is to inquire with local caving groups.
"I think people should go caving more, and the best way to get started in the Black Hills is to go to a cave that's already built up," Adam says. "A lot of the bigger ones with tours have tours where you can easily walk through, as well as ones that are more off the beaten path. They'll also have the equipment you need to be safe, so it's a good first step before going out on your own."
Popular Black Hills caves that offer tours include Jewel Cave National Monument, Wind Cave National Park, Wonderland Cave, Rushmore Cave, and Black Hills Caverns. Admission fees and tour availability vary, and some are first-come-first-served, so it's best to check with them before you go. 
If you're ready to check out a less developed cave or get a more hands-on experience, there are caving groups here in the Black Hills. The Paha Sapa Grotto is the largest, and they host regular meetings for new and experienced cavers to learn more about caving and conservation.
"At the Paha Sapa Grotto, we have relationships with every cave owner in the Black Hills — which is over 500 of them," Adam says. "If you're a conservationist we can help you access caves for research. If you're just interested in caving and don't know how to start, we'll help you there too."
Caving safety
The Paha Sapa Grotto has a day trip list that includes all the necessities for a day of caving. It includes everything from the type of pack you should consider getting to the kind of snacks you should bring. The most important thing to bring? A light source. At least three of them, actually.
"Light is literally life. The most likely reason you'll die in a cave is because you don't have a light and can't navigate safely," Adam says. Having more than one source of light means you have backups if one dies or gets lost — just make sure they're easily accessible. If you're in a tight spot or in the dark, you want to be able to find them in your gear.
A helmet is likewise important for caving. It's not there to protect you from falling rocks, but from falling and hitting your head. Cave floors are uneven and often slick, which means you're definitely at risk of falling. You can use a rock climbing helmet or a caving-specific one, but any helmet with a low profile, vents, and no bill should do the trick. Make sure it has clips to mount a light source.
A good set of gloves is the third essential piece of caving safety gear. These can be your average rubber gardening gloves or leather working gloves. The key is to have a good fit so you maintain dexterity in your hands and fingers.
While not a necessity, elbow and knee pads are also basic gear you'll want to consider. You can expect to do some crawling and climbing if you're headed off the beaten path. Pads will help prevent injuries, not to mention discomfort.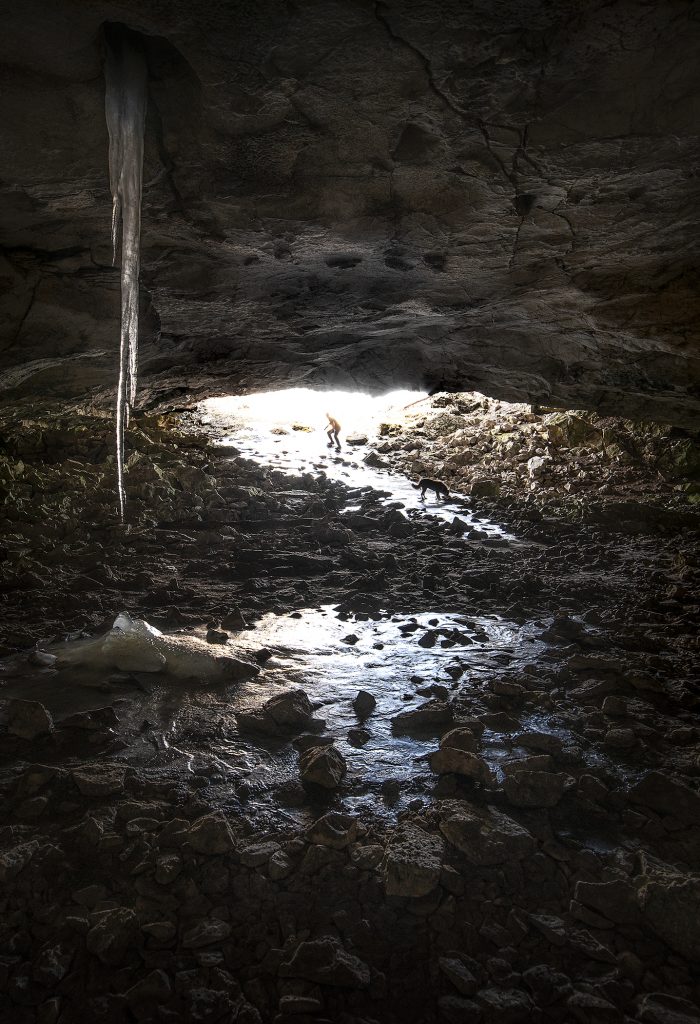 Other Caving Tips
Another  important safety precaution when caving is to always go with a friend. Your friend can go for help if you're hurt inside the cave, and vice versa. The same goes for families who want to cave, with one caveat: "Make sure you're confident at caving before taking your kids — you have to be able to help them, not be worrying about yourself while trying to keep them safe. Kids can fit into smaller spaces than adults, so you have to keep an eye on them."
If you're going for a short day trip or guided tour, your average gear will suffice. If you're getting serious about the sport or spending more than a day underground, Adam recommends getting caving-specific gear. "Gear not made for caving won't hold up to the ruggedness of the sport," he says.
Beyond safety, there are certain rules specific to caving to be aware of. Caves seem indestructible — they are made from rock, after all. What many people don't understand is that they are in fact quite delicate. Take care not to touch formations to the max extent possible, and make sure you don't leave anything in the cave. 
"In a cave, there's no weather, and the features inside can take thousands of years to form. People don't realize how fragile some of it is, and end up breaking things that we can't fix," Adam says. "They also don't realize the impact of their presence in the cave. For example, if you were to leave an M&M on the floor, two weeks later it'll be a baseball-sized blob of black mold." While it may seem small, there are microbes in Black Hills caves that are found nowhere else in the world. Something as innocent as an M&M could eliminate unique lifeforms before researchers have a chance to fully examine it.
Contamination on your gear or leaving behind food can also cause problems for wildlife in caves. White nose syndrome is a big concern throughout the country. It's a disease that's incredibly deadly for bats and spreads rapidly. Before you head out on a caving adventure, be sure to learn all about bats and how you can help protect them.
Top Black Hills Caves
If you're ready to get started, Adam has four caves (and one not-quite-a-cave) he recommends for beginners:
Jewel Cave. "It's hands down the best cave in the Black Hills. They have an amazing scenic tour, but also the best wild cave tour if you want something more adventurous. Their wild tour is 4-5 hours long, and has one of the rarest cave formations: hydromagnesite balloons. It could be the longest in the world – we just haven't found the end of it yet.
Wind Cave. "As the 7th longest cave in the world (for now), Wind Cave has plenty to see. Their scenic tour has four options so you can see different formations every time. They also have a wild tour, but it's not quite as long."
Rushmore Cave at Rush Mountain Adventure Park. "Yes it's part of the park, but their cave is great. The people who own the park love caving, and their guides do too. There's a difference between their guides — who all love caving — and your average National Park service employee who might not be as well-versed in it. They're also a great resource if you love caves and want to learn more."
Black Hills Caverns. "What's fun about Black Hills Caverns is their normal tour is a little more adventurous than most. You'll get a good mix of a well-guided tour and a more authentic cave experience."
Nemo Rock Maze. "This isn't actually a cave, but the rock formation feels like a cave that's just missing the top. You can get a great feel for the skills you'll need when caving, without the danger of being underground."
Wherever your Black Hills cave adventures take you, we hope they're exhilarating, fun, and most of all, safe!
WORDS: ASHLEY JOHNSON
PHOTOS: JESSE BROWN NELSON