From prospecting for gold to slinging ice cream, Horatio N. Ross has certainly seen a change of pace in Custer.
Horatio Ross was a prospector who accompanied Custer's expedition to the Black Hills, and is recognized as the first person to find gold in the region. His discovery kicked off the gold rush of 1874, and the subsequent influx of settlers. When Custer left the hills in late 1874, Horatio Ross went with him, but it would be less than a year before he returned. He stayed in the town of Custer for almost 30 years until his death in 1904.
Today, Horatio Ross lives on in many ways, including the annual Gold Discovery Days festival held in honor of his discovery. It also lives on in one delightfully sweet way: as the namesake of the newest ice cream parlor in Custer.
Giving history a new life
Horatio's is located in Custer's historic 1881 First National Bank of Dakota Territory building. As one of the first banks in the area, it was the place miners could exchange their findings for cash, and local citizens could do business. They'll still happily exchange your money, but nowadays the most gold you'll walk away with is a perfectly baked waffle cone. Which, truth be told, is just about as sweet as striking it rich in the mines.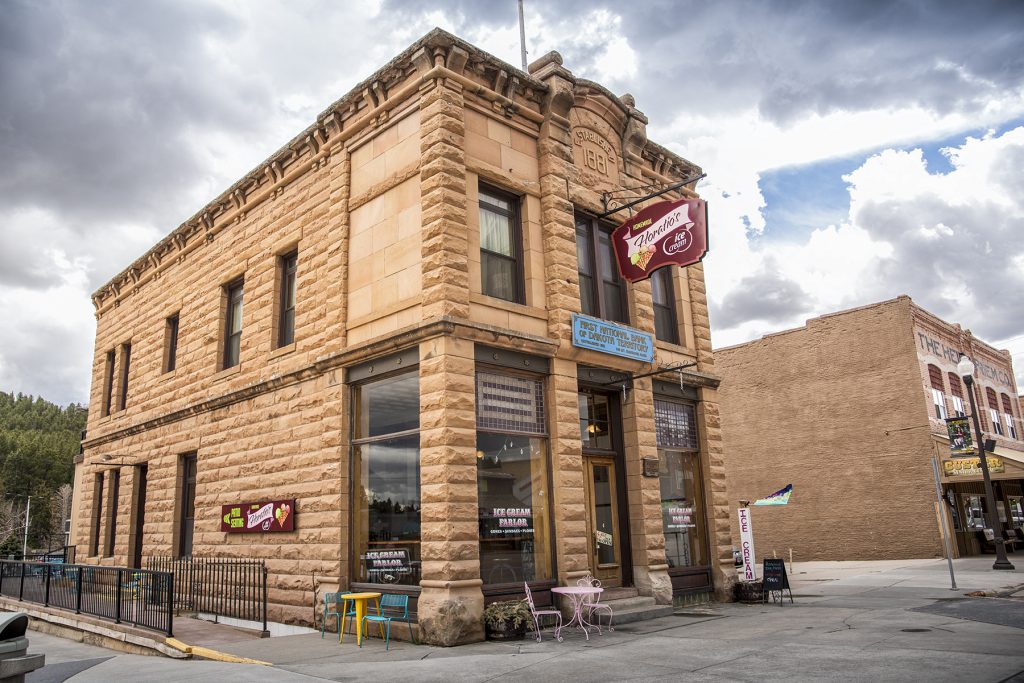 Stopping in at Horatio's is sure to satisfy your sweet tooth, with a great selection of flavors and treats. Cheryl Steele runs Horatio's, but her involvement sort of came by chance. "Our friends bought the building and were looking for ideas, and people kept mentioning they'd like an ice cream shop," she says. "We thought it sounded fun, so we went for it!" Now that they've been open for a few years, Cheryl and her team have gotten into a rhythm. They've figured out the perfect mix of flavors and have added new items like ice cream floats and sandwiches to their menu.
Horatio's always keeps at least one flavor made from alternative milks and a sorbet in rotation for customers who need a dairy-free or vegan option. They also balance their flavor offerings between the tried-and-true favorites like vanilla or chocolate and more adventurous ones like lemon poppyseed, key lime pie, and cherry chocolate walnut. "We make all of our ice cream in house, and some of our most popular flavors are coffee and huckleberry," Cheryl says. "We try to use local ingredients when we can, such as the Bob's Bees Honey Cashew flavor we made using honey from my brother's bees."
The ice cream isn't the only thing homemade at Horatio's; their waffle cones are made from scratch and baked fresh when you order. If you can't decide what flavor to try, or simply want to take some to enjoy at your leisure, they also offer pints for purchase.
Spreading joy for visitors and locals alike
Horatio's stays open seasonally like many businesses in Custer, but they are open slightly longer than most. You'll find them scooping happiness from March until October every year. If your sweet tooth strikes in winter, have no fear! They do take special orders when they're closed, so you can take advantage of their seasonal offerings like candy cane for Christmas, or treat your sweetheart to white chocolate raspberry ice cream for Valentine's Day.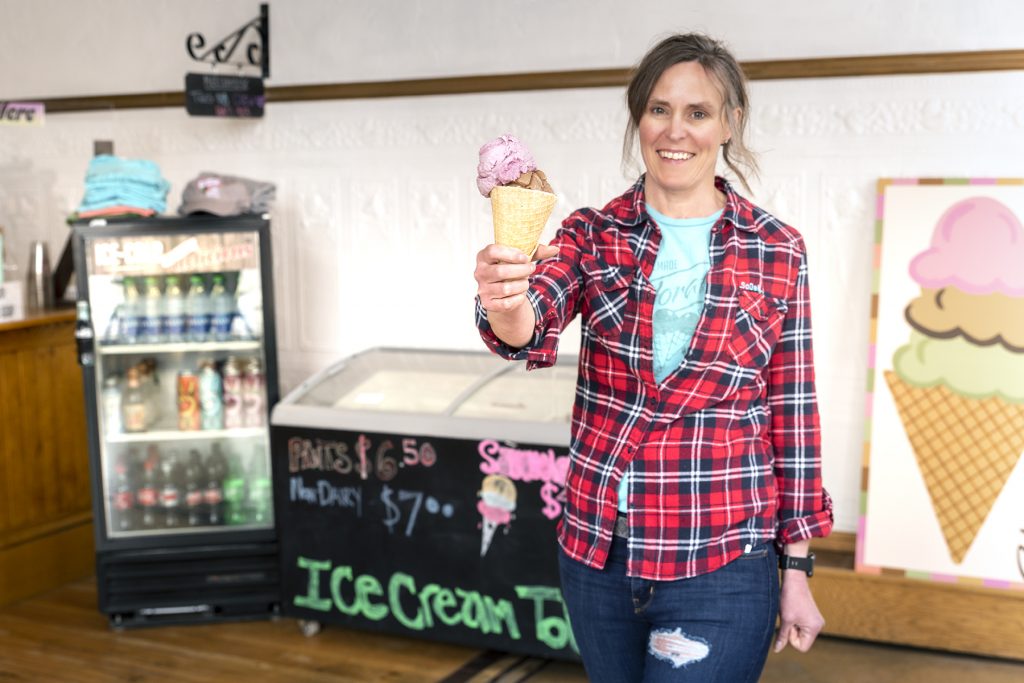 South Dakota weather is known to be fickle, and Cheryl has opened last-minute on occasional warm winter days so her local fans can get a scoop. "We had a nice day in the first week of March one year, and we weren't quite ready but I made myself ready so people could come out and enjoy," she says. "Living in a small community like Custer, we know a lot of our customers personally, and they've sort of become our extended family."
Horatio's is a favorite for locals, but they treat everyone who walks through the door like family. Cheryl says the best part of her job is getting to be the highlight of their guests' day. "When people come in to get ice cream, they're usually celebrating something or out having fun, so it's great to see people happy and get to be part of it."
If you're looking for a sweet treat to cap off a day exploring the hills, Horatio's Ice Cream is a great place to stop. To see what flavors they're currently serving, check out their website. 
WORDS: ASHLEY JOHNSON
PHOTOS: JESSE BROWN NELSON