A few eagle-eyed followers are clearly well-versed in trekking off the beaten path. They were able to identify this week's mystery spot…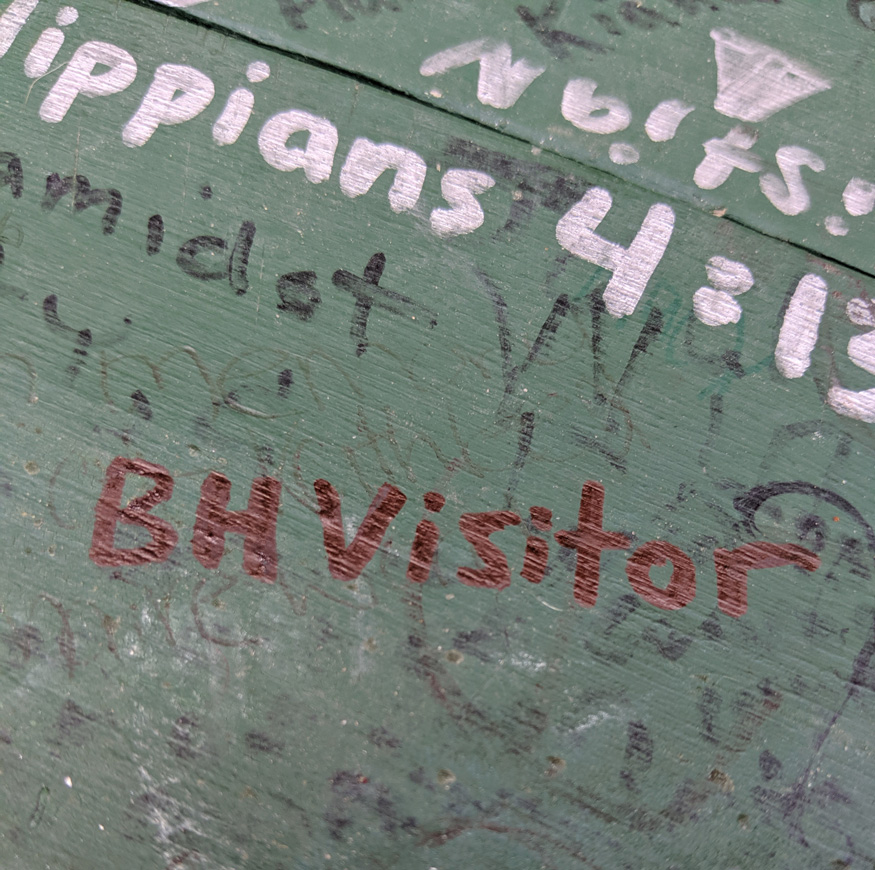 …as Poet's Table in the beautiful Black Hills!
Exactly where in the Hills we won't reveal – and neither should you. Poet's Table is a true hidden gem and searching for it is a bit like taking part in a treasure hunt. The internet-savvy can find clues elsewhere, but our lips are sealed.
Poet's Table was the brainchild of John Raeck, a loner who took a job at Sylvan Lake Resort in the early 1960s. Raeck loved Custer State Park and hiked it frequently. He was particularly fond of a shady, recessed spot adjacent to a cliff wall, a natural shelf in the rock that offered stunning views of the granite spires and ponderosa pine forests of the Black Hills. At 6,600′ elevation and well off any marked trail, Raeck's alcove was an ideal place for quiet reflection.
Raeck was fond of penning verse and gave himself a suitable nickname, The Vagabond Poet. He eventually hauled lumber up to his secret nook, and in 1968, built a table, chairs, and benches. He wrote an ode to his private retreat:
A castle that secluded lies

Beyond the Gates of Paradise.

A soul-restoring mountain ark

In South Dakota's Custer Park;

Where time and life are reconciled,

And man-of-years is like a child.
Raeck began handing out cards advertising "The Poets' Desk at Paradise Retreat" and left a box for other aspiring creative types to leave behind poetry of their own. Word of the spot spread slowly, and finding it became a rite of passage for those determined few in the know. In recent years, social media helped raise awareness of the little hideaway. Too much, perhaps – a well-publicized act of vandalism in 2018 resulted in the original table and chairs being destroyed and hauled away. Following a public outcry, new furniture was donated by a local woodworker named Jazz Sutto and installed within days. A bronze plaque reads "Poet's Table II" on the new table and honors Raeck, who passed away in 1982. Thanks to Sutto's generosity, future generations are able to leave their own mark on this beloved secret retreat.