He had also combined his God-given talents of storytelling with writing to become a relatively proficient newspaper reporter and poet. Jack had made his way to Nebraska in 1875, where he was working as a paid journalist for several newspapers. He found himself professionally and personally drawn to the activities occurring in the Black Hills of Dakota. Joe Gossage, the editor of the newspaper in Sidney, Nebraska (later the owner and publisher of the Rapid City Journal) lent Crawford a horse to make his first reporting trip to the Black Hills in 1875.
Jack began to immerse himself in the country he was chronicling for eastern newspapers, and after arriving in Custer City, Dakota, was elected to the town council. During the months that followed, news reports and sensationalism from the journalist helped to fan the fire of the famous Black Hills gold rush.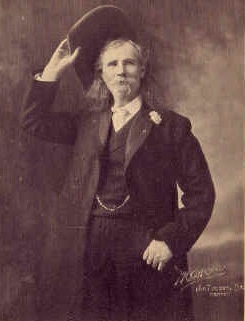 Jack was also appointed the first 'Captain' of the newly appointed Black Hills Rangers militia in August of 1875. He found work as a military guide and scout in the region. His manner of dress, flamboyance, temperance and gift of poetry made Crawford one of the Hills' earliest celebrities. He was one of a very few "teetotalers" among the army scouts, and the only man on the frontier who could be entrusted to deliver an unopened bottle of whiskey, according to William "Buffalo Bill" Cody. Cody described in his autobiography a meeting with Jack in July of 1876:
"It was here that we were overtaken by Captain Jack Crawford, widely known East and West as "The Poet Scout." Crawford had just heard of the Custer massacre, and had written a very creditable poem upon receipt of the news. His pen was always ready, and he made many epics of the West, many of which are still popular throughout the country.
Jack was a tenderfoot at that time, having lately come to that country. But he had abundant pluck and courage. He had just brought dispatches to Crook from Fort Fetterman, riding more than three hundred miles through a country literally alive with hostile Indians. These dispatches notified Crook that General Terry was to operate with a large command south of the Yellowstone, and that the two commands would probably consolidate somewhere on the Rosebud. On learning that I was with Crook, Crawford at once hunted me up, and gave me a letter from General Sheridan, announcing his appointment as a scout. He also informed me that he had brought me a present from General Jones, of Cheyenne.
"What kind of a present?" I inquired, seeing no indication of any package about Jack.
"A bottle of whiskey!" he almost shouted.
I clapped my hand over his mouth. News that whiskey was in the camp was likely to cause a raid by a large number of very dry scouts and soldier men. Only when Jack and I had assured ourselves that we were absolutely alone did I dare dip into his saddle pockets and pull forth the treasure. I will say in passing that I don't believe there is another scout in the West that would have brought a full bottle of whisky three hundred miles. But Jack was "bone dry." As Crawford refused to join me, and I was never a lone drinker, I invited General Carr over to sample the bottle."
Custer's death at the Little Big Horn inspired the following lines from Jack's quill:
Did I hear the news from Custer? 
Well, I reckon I did, old pard.
It came like a streak o' lightning,
And you bet, it hit me hard.
I ain't no hand to blubber,
And the briny ain't run for years,
But chalk me down for a lubber
If I didn't shed regular tears.