The Story of "A Lifelong Dialogue Between Two Lovers of Art"
The Fleming-Turnbull family is a little untraditional. Both divorced and remarried, Bill Fleming and Susan Turnbull are very like-minded and artistic. And generally, according to the two of them, so are their children. 

Married in the late '80s, the family became a united mix of kids. As Susan puts it, the family looks a bit like the Brady Bunch. "They really adopted each other; it wasn't his or her family, it became a united 'our' family," they both agreed.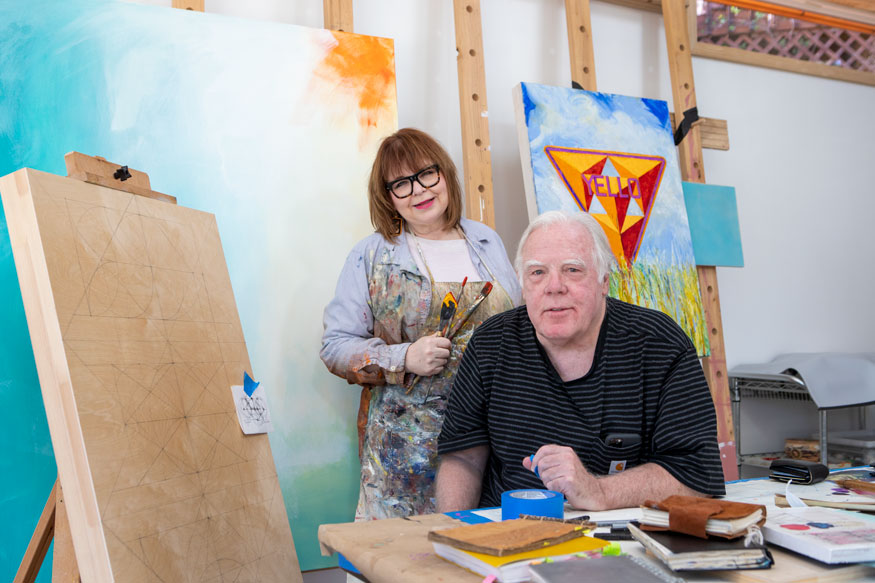 With seven kids between the two of them, Susan shares that every one is talented in their own way. They are sculptors, builders, writers, healers, artists, producers, directors, and musicians. She sums them up as creative, artistic humanists.
Hearing them discuss their relationship with such passion and appreciation was truly mesmerizing. The two first met in Custer during elementary school; they were actually neighbors (living across the street from one another), but they lost touch early on when Bill and his family moved from the area.
Through the years, the two went their separate ways and created lives for themselves, traveling across the nation for education and different jobs, but eventually, both found themselves back in the heart of the Black Hills. In the early '80s, they reconnected through advertising work.
"We had a lot in common, and I worked for him on some projects as a freelance artist," Susan shares. The two became friends and associates quickly. Bill says, "We were in our early 30s and it had been the first time we had really reacquainted."
Each has received hundreds of awards for creative excellence, which in turn, have led to some great new assignments. Susan was chosen to illustrate "The Raccoon and the Bee Tree" for the South Dakota Historical Society Press. She's also exhibited her fine art multiple times across the nation, and Bill's first book of sequential drawings went on a state-wide tour as one of the pieces chosen for "Horizons," The First Annual South Dakota Governor's Art Exhibition.
He Said/She Said
The two really have a unique flow and communication. Through their everyday lives and their work as artists, the conversations bounce and influence each other. The couple recently had an exhibit of their work at the Dahl Arts Center in Rapid City.
The exhibit, "He Said/She Said," really demonstrated how much their work influences one another and how the conversations flow and ebb together. While they have completely different styles, Bill says they tend to like the same things, and they are the biggest advocates of each other's work.
Art is a passion for both Susan and Bill. They started as commercial artists working in advertising, and today they still work in the business together. They are co-owners of Hot Pink, Inc. located here in Rapid City. At the end of the day when they go home, the couple is still creating art.
To this day, Susan says that Bill will sit on the couch and design or draw in his books. "We have two nice home studios available, but I guess, for Bill, nothing compares to the comfort of his coffee table and couch," Susan joked.
Bill's art is full of lines and geometry inspired by his graphic design work and a lifelong appreciation for typography, dating back to his early days in the advertising industry. He has over 30 sketchbooks, volumes of works in series, wherein he crafts his intricate designs. Bill explains the designs in his sketchbook "like a paragraph in a book you'd read." Each drawing inspires the next and ties in with the previous design.
"I internalized the grids so I could draw it freehand from memory. My first book followed deKooning's rule of 'Killing the canvas,' and worked my way through the whole thing from spread to spread," Bill says. Drawing upon his experience in the advertising industry, he turned his now defunct craft of drawing commercial layouts into an art form he could continue for his own sake.
He adds, "It was satisfying, kind of an echo of the old days but with a whole new level of freedom in it."
Susan's art is a great example of emotion and expressionism. Her line is a faster, more gestural composition and is often in the form of larger paintings and drawings with a semblance of a figure.
"My sketchbooks are mainly studies for doing a painting or a pastel drawing; I do a huge variety of subjects, but they're not like Bill's books where there's a similarity or theme," Susan explains.
Having exhibited in a few art shows in upstate New York and Santa Fe, Susan figured she would only be sharing some of her larger-scale works, but after meeting with the curator at the Dahl, she reconsidered.
Susan continues, "We ended up finding really kind of fun he said/she said types of interesting art, and I ended up putting more of my sketches in the exhibit than I thought I would to show that story."
The foundation of the exhibit and their realization of the similarities and differences between their work lies within two portraits of Susan's son, Cheston. Bill and Susan decided they would each do a drawing based on a photograph Susan had taken, and though both images captured Cheston's likeness beautifully, each was also surprisingly unique.
"It was where our conversation began. We discovered how differently we look at and approach things and yet how so much was the same," Susan explains.
The true beauty of their art lies within the roots of their marriage and relationship. Bill says, "I am a huge fan of Suzie's drawings. She is a master draftsman; she is a master illustrator. She can draw however you want." At home their visual conversation is ongoing. "What our life is like is, we draw on napkins and show each other our drawings a lot," Bill reminisces with a smile.
While much of their work is completely opposite, they also have collaborative pieces. Susan says there's a distinction between the two styles, but they love to work together as well. "We've even shared some sketchbooks; he'll draw a couple of pages and hand it over to me and I will draw some."
The two explained one of the pieces, "Running from Bill's Grid," where Susan had drawn a beautiful "wild woman" figure running from the grid that tied in with a drawing on the previous page. Some of the work was interpretive as well. Bill would create a grid or intricate design and Susan would turn the page and draw something she thought she would see in the design.
Artist Advice
Bill and Susan each offered a piece of advice for younger artists. Susan starts by saying, "My advice for young artists is to be aware of the world we live in. Inspiration is everywhere, from the simplest to the most complex. Find the things that you are most passionate about and create. Do the unexpected, go out on a limb, break some rules. Be spontaneous."

She continued with something Picasso said: "Essentially, great art should disturb the viewer on some level." Susan says, "Whether positive or negative, that emotional connection moves the viewer."
Keeping it simple, Bill could think of no better advice than Kurt Vonnegut's quote from A Man Without a Country.
"Practicing an art, no matter how well or badly, is a way to make your soul grow, for heaven's sake. Sing in the shower. Dance to the radio. Tell stories. Write a poem to a friend, even a lousy poem. Do it as well as you possibly can. You will get an enormous reward. You will have created something."
Fun fact: Bill and Susan designed the logos for the Dahl Arts Center and the Rapid City Arts Council. Can you guess which logo was designed by each of the two artists?
WORDS & PHOTOS by Sarah Richards