James (Scotty) Philip was born near the town of Dallas, Morayshire, in the highlands of Scotland on April 30, 1858. While growing up, James read exciting stories about life in the American West. In the spring of 1874, at the fifteen, Philip left Scotland to follow his older brother George to Victoria, Kansas. He wanted to live the western experience for himself.
Life in Kansas was not what Philip had expected; long hours of hard work were not all that exciting. It was about this time that he was given the nickname of Scotty in reference to his homeland. Also about this time newspapers reported about the recent discovery of gold in the Black Hills. Not long afterwards, Philip left Victoria to explore the West, ending up in Cheyenne, Wyoming Territory. At that time the Black Hills belonged to the Indians as part of the Great Sioux Reservation. The Indians believed that the Black Hills were sacred and did not want the miners damaging the region in their attempts to find gold. The United States government sent in troops to avoid conflicts between the miners and Indians, but despite all the efforts to keep people out of the hills, they continued to come. Philip was thrown out of the Hills once.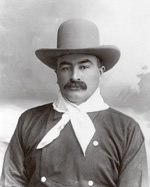 After he gave up mining, Philip went to Fort Laramie, Wyoming Territory. where he was employed for a short time as a government teamster. Later, he quit that job and moved to Fort Robinson, Nebraska, to cut hay and carry messages for the Army. While he was there, he also worked as a cowboy for one of the first cattle ranches in the region. With the money from these jobs, he purchased a team of mules and a freight wagon, and began to build up a herd of cattle. It was also at Fort Robinson that Philip met Sarah Laribee, whom he married in 1879.
After their marriage, they moved to Clay Creek where Scotty began ranching and hauling freight. From his ranch at Clay Creek, he hauled freight from Nebraska to the Black Hills. Freighting was very lucrative and he continued building his herd of cattle. In 1881, he moved his ranch to the mouth of the Grindstone Creek along the Bad River. This ranch was near the present day location of Philip and served as the home base of Scotty's ranch operations for many years.
At this time, the area was part of an Indian reservation. White men were not allowed to run cattle on the reservation unless they or their wife was Native American, which Sarah was. For this reason they were able to ranch here without having to worry about encroachment upon their ranch until 1898, when the land was opened up to the settlers. By that time, however, Philip had built up a considerable herd and a vast amount of land.
While he operated this ranch, Philip and neighbor Dan Powell established a post office. This post office was named Philip, and was later moved into the new town also bearing his name.