If you've been out and about in western South Dakota in the springtime, you've probably stumbled upon a beautiful bell-shaped purple flower with a bright yellow center and silky-haired stem. This is the pasqueflower, designated the official state flower of South Dakota in 1903. This member of the buttercup family goes by many different names including prairie crocus, May Day flower, meadow anemone, wind flower, goslinweed, Easter flower, and prairie smoke. It's often the first sign of spring, a welcome and colorful sight after months of seemingly endless cold and snow. Native Americans dried the pasqueflower and used it for medicinal purposes, but it's toxic if ingested, so the standard warning applies: kids, don't try this at home!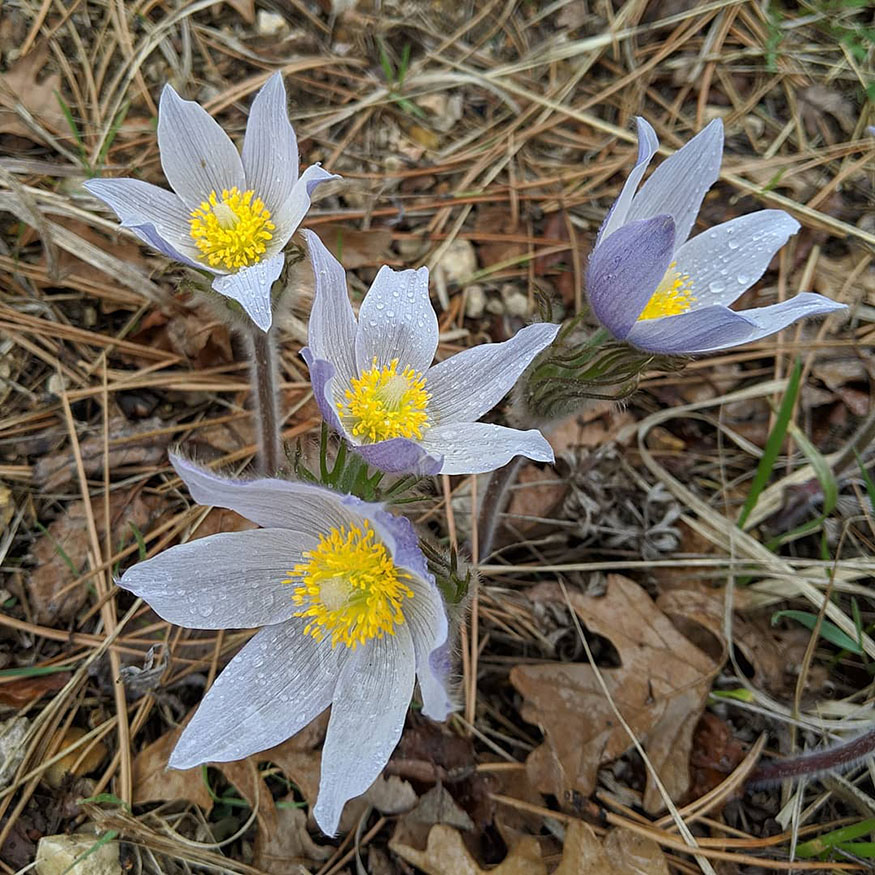 The pasqueflower grows wild throughout South Dakota, favoring the state's abundant prairies and grasslands. It can also be found in the Black Hills, especially along north-facing slopes. The flower is short-lived, so you only have a few prime weeks to catch it in bloom—but it's well worth the effort! There are few sights more dramatic and stunning than a field of lavender pasqueflower dotting the landscape as far as the eye can see.
While pasqueflower can bloom pretty much anywhere, they are often tricky to find. There are a few tried-and-true spots in our area that offer prime viewing opportunities. They are most common from late March through early May, depending on the weather. Some of our favorites include:
Skyline Wilderness Area
This network of trails on the Hogback Ridge that divides Rapid City in half comprises over 150 acres of forests and meadows and is probably the best place to find pasqueflower in town. They're abundant here, growing in clusters throughout the park. A good starting point is the Petrified Forest trailhead. Work your way down the Amphitheater Trail and you're guaranteed to see plenty of them. 
Wind Cave National Park
Massive in scope – the park encompasses a staggering 33,851 acres of forest and prairie – it can be difficult to pinpoint a precise spot to find pasqueflower here. They grow wild throughout the park, alongside many of the designated trails (Lookout Point and Rankin Ridge are usually reliable). You may even see them covering entire hillsides during their peak bloom!
Jewel Cave National Monument
Not to be outdone, Jewel Cave National Monument boasts plenty of vibrant pasqueflower blooms, as well. Look for them poking out of the grass around the Visitor Center, throughout the Historic Area, and along park trails.
Bear Butte State Park
The Lakota called this rock formation jutting high above the prairie Mato Paha ("Bear Mountain"). It's a sacred spot for many Native Americans, who continue to hold religious ceremonies here. The extensive grasslands throughout the park often harbor pasqueflower by the hundreds. 
Deadwood (White Rocks)
Mount Moriah Cemetery is a great spot to immerse yourself in history. After paying respect to Wild Bill and Calamity Jane, follow the signs to Seth Bullock's grave and continue up the hill. Here, you'll find a trail to White Rocks, a breathtaking overlook that offers views of Mount Roosevelt, Bear Butte, and Terry Peak. You're also likely to find plenty of pasqueflower.
Click here to learn more about South Dakota's state flower.