Full of wild western tales and legends, Deadwood is home to many famous and infamous characters throughout time. Established in the late 19th century, this city was a popular outlet during the Black Hills gold rush. Figures such as Calamity Jane, Jack McCall, and James Butler Hickok, better known as "Wild Bill," all inhabited Deadwood. An annual summer event focusing on Wild Bill is hosted to celebrate the beautiful historic events Deadwood is known for. Get your cowboy boots and concert shoes to kick back at Wild Bill Days. Walk in the footsteps of Calamity Jane or Wild Bill by exploring the historic main street shop or participate in family friendly fun from 10am-after midnight; pets are welcome, too! From gold panning to ice cream to country music artist Tracy Byrd himself, everyone who shows up finds something to enjoy. 
Watch live re-enactments of infamous events that happened over 100 years ago. Let your kids get involved by being deputies – any child is encouraged to participate before the show. One of the actors passes out badges to keep, and then they recite an oath to uphold the law and to "Always do the dishes for mom!" Deadwood Alive Main Street Shootouts occur daily, with the exception of Sundays, May 25-Sept 21. However, the only time to see the Trial of Jack McCall for free is during Wild Bill Days. Make sure to keep your ears covered though, the actors use real guns with wheat-packed ammunition, but believe me, that doesn't mute the noise any! These "cereal" killers also ask that you stay on the sidewalks during the main performance for the safety of the crowd as well as the actors.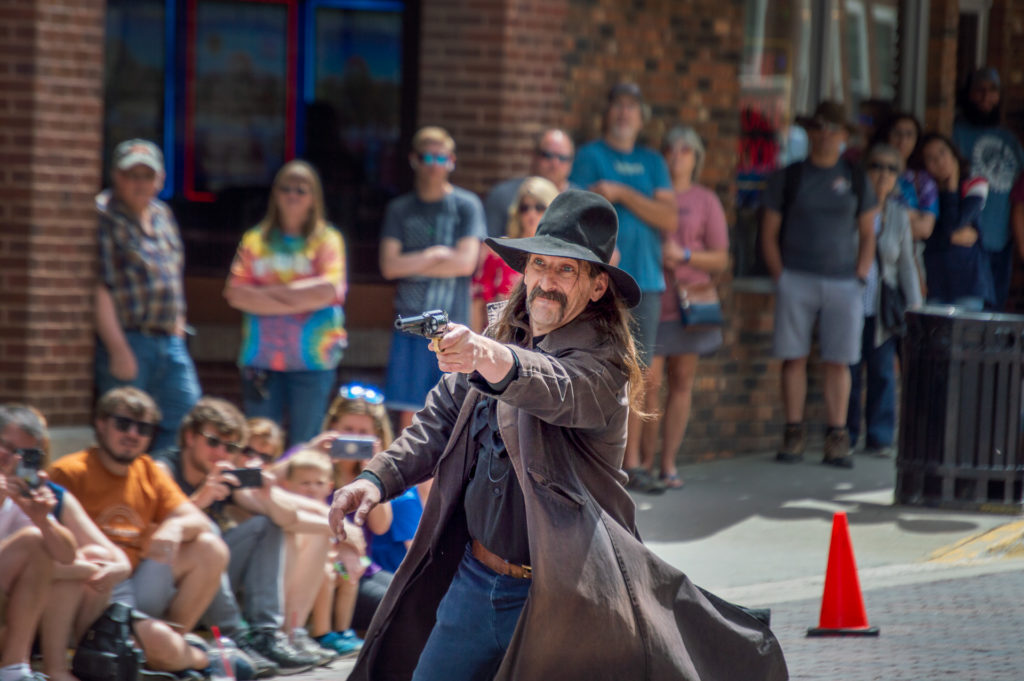 Looking forward to getting your motorcycle out for the season? Deadwood offers great parking for bikes and hosts the Wild Bill Motorcycle Classic Poker Run. Registration for this event is on Friday while the ride is Saturday. If you prefer your own two feet instead of a motorcycle, sign up for the Midnight Cowboy Glow Run on Friday night. Join in an illuminating 3-mile, untimed run or walk. Shine like a star or glow like a Christmas tree – dress up in costumes and express your creativity. All proceeds from the event are donated to a local charity. 
Search for gold with the Northern Hills Prospectors. This group of educators' goal is "to teach responsible prospecting and mining to young and old and to have fun while doing it." Discover the process of panning for gold or sit back and watch a sluice demonstration. A great activity for all ages! If you are a history buff and want to see hands-on what past Americans did or if you are a parent trying to keep your kids occupied for a little while, check this event out during the day. Starting at 10 a.m., you can stop by at any point until 5 p.m.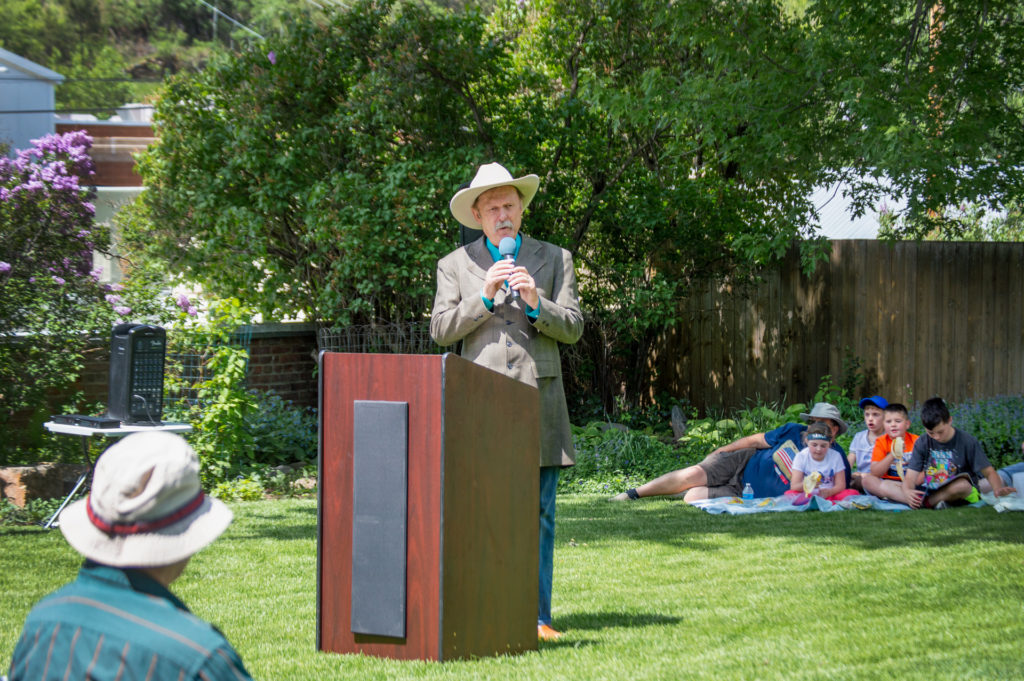 Aside from the concerts, the DockDogs Competition is the most popular event, drawing contestants from all over the Midwest. Enter your own dog in the competition for a little friendly fun. Some competitors are veterans, and some are just starting out. It is entertaining to watch the first-timers charge to the edge of the dock and freeze right before jumping in. For some pups, the idea of jumping off the dock was just not worth the toy. On the other hand, for Julie Jones and her dog Maximus Cash, this has become a tradition, and something of ease. Both spectators and participants should not be afraid to get wet! With the weather so hot this time of year, the refreshing splash from the leap of the dog is a welcome surprise. Occasionally, owners will also dress their dogs for the event. We've seen dogs with goggles and dogs with swimsuits!
Join the Deadwood Historical Society for "History on the Lawn," which hosts someone new each year. 2019 welcomed author of "The Illustrated Life and Times of Wild Bill Hickok," Bob Boze Bell. Bell spoke about the man who created the prototype of the Western gunfighter and gave some insight into the HBO® Deadwood series. What a great time to rest a little during the day and enjoy a picnic lunch with your family while learning more about Deadwood.