Historical Black Hills characters, both factual and fictional, have taken center stage in the successful HBO series "DEADWOOD".
Not much is known of Jack McCall, who murdered Western legend Wild Bill Hickok in the No. 10 Saloon in 1876. According to research, McCall was born around 1852 in Jefferson County, Kentucky. He was reported to have been in the Republican River country near the Kansas-Nebraska border in 1869. He was employed as a buffalo hunter, and was thought to be a cattle rustler, though that has not been documented. He likely bounced around in the cattle and railroad towns of Kansas, Nebraska, and Colorado during the early 1870s.
Although no photographs of Jack McCall have been authenticated, newspapers described him as having thick chestnut hair, a somewhat pointy-head, a small sandy moustache, a small mouth, snub nose and crossed eyes. He may have had a small goatee, and he was described as having a florid complexion and a double chin. He apparently used aliases during this period – two of which were Curly Jack and Bill Sutherland.
Jack McCall was sighted in Wyoming around 1875, and probably gravitated toward the gold rush in the Black Hills. It is likely that McCall was already in Deadwood when Hickok arrived in mid-July of 1876.
The arrival of Hickok in wide-open early Deadwood was viewed with a mix of curiosity and distrust by those already there. What was the "famous" Wild Bill doing in Deadwood? Local bosses who made serious money on illegal and immoral activities guessed that local businessmen would ask Hickok to take on the position of marshal or at least a hired enforcer on their behalf . It is speculated that the criminal element was fearful due to his reputation, and may have decided to encourage somebody outside their group to "take care of Hickok" for them.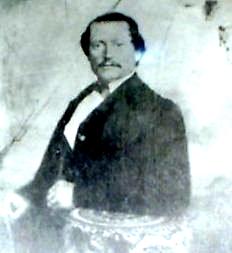 Wild Bill was playing cards in Nuttall and Mann's No. 10 Saloon on August 1, 1876, when one of the players dropped out and bystander Jack McCall took his place. McCall lost big, and at the end of the evening was broke. Hickok gave him money to buy supper and a little advice about gambling, and then returned to his camp.
On August 2, Wild Bill entered the Saloon No. 10, had a drink, and talked with bartender Harry Young. A poker game was in progress, with the saloon's owner Carl Mann sitting in. Mann, Charles Rich and Captain Massie invited Wild Bill was invited to join them. He hesitated. The only available seat had its back to the door, and Hickok never sat with his back to the door. He asked Rich to change seats with him, but Rich refused. Hickok reluctantly took the empty seat and joined the game—a fatal mistake.