Historical Black Hills characters, both factual and fictional, have taken center stage in the successful HBO series "DEADWOOD".
Al Swearengen is portrayed in the HBO production as the ruthless owner and manager of the Gem Theater in a way which, for the most part, is historically accurate.
---
Nearly all of what is known about Ellis Alfred Swearengen is related to his years spent in Deadwood.
Ellis Alfred Swearengen was born in Mahaska, Iowa, on July 8, 1845, to Daniel and Keziah Swearengen. Al came from a family of eight children.
According to the 1870 census, Al was no longer living in Iowa. He showed up in the 1880 census in Dakota Territory. Al was perhaps one of the earliest non-mining men in Deadwood Gulch. He reportedly relocated there from Chicago with his first wife Nettie in the spring of 1876 by way of Cheyenne and Custer. "We're pretty sure he came from Chicago," said Mary Kopco, director of the Adams Museum and House in Deadwood.
Upon arrival in Deadwood Gulch, Swearengen built the infamous Gem Theater on lower Main Street (the area referred to as "The Bad Lands"). Opened in June of 1876,the Gem became the longest continuously operating entertainment venue in Deadwood. The 30 by 100 foot, two-story building, had a bar in front with seats for patrons and spectators on each side. The rear of the building was divided up into small rooms where Swearengen's girls entertained customers. Other Gem staff included Dan Dority, general manager; Johnny Burnes, floor and "girls" manager; and several bouncers.
Swearengen's staff was as brutal as Swearengen himself, and the beating of women was not uncommon. In fact, The Gem had a reputation for the most vile entertainment featuring the debasement of women in a generally violent and wide open town. Swearengen recruited women from the around the country, assuring them of jobs in respectable hotels or homes and the thrill of adventure on the Western frontier. When the women arrived in Deadwood they often found themselves stranded and forced into prostitution. If they did not submit to his wishes, Swearengen or his employees threw them into the streets to fend for themselves.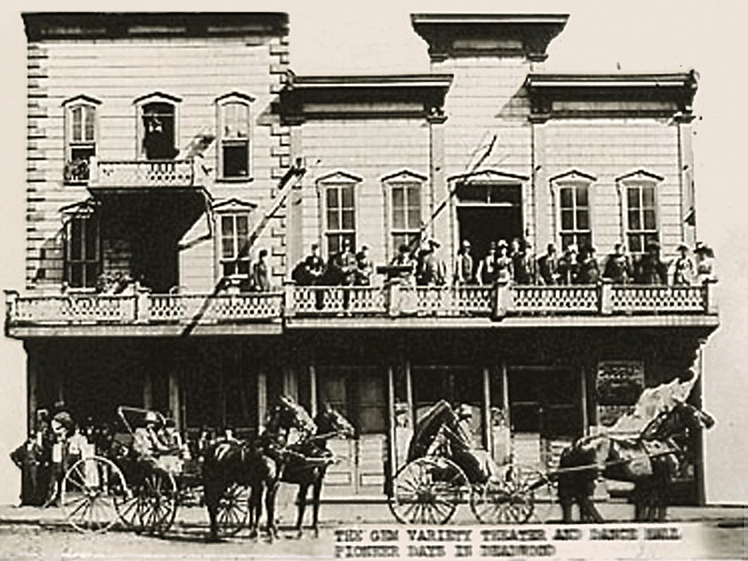 In its heyday, The Gem was reportedly taking in $5,000 on most nights—$10,000 on evenings featuring special events. After The Gem and nearly 300 other buildings were destroyed in the great fire of 1879, Swearengen rebuilt the business. Entertainment imported into Deadwood included musical acts, burlesque shows, dancing, prize fights, and even performances of Gilbert and Sullivan operas.
Was there actually a feud between Swearengen and Seth Bullock in real life as is depicted on the "DEADWOOD" series? It is reported that at one point, the two men drew a line in Main Street to mark the separation between the Bad Lands of lower Main, which Swearengen controlled, and upper Main Street, where Marshal Bullock was in control.
Al Swearengen left Deadwood penniless after The Gem's final destruction in the 1899 fire, and was (depending on the source) killed by accident, murdered, or committed suicide while attempting to board or "hop" a train in Denver. Thus ended the life of one of Deadwood's most brutal, ruthless, and colorful characters.