If the Black Hills of the late 1800s and first decades of the 1900s ever had " a man for all seasons" he may well have been Seth Bullock.
A contradiction in many ways, Bullock embodied unique traits and interests which allowed him to be a successful man for the times in which he lived.
Bullock was born July 23, 1849, in Sandwich, Ontario, Canada (Sandwich is now a part of Windsor, which is across the Detroit River from Detroit, Michigan). His English-born father, George Bullock, besides being a military man, was a prominent leader in municipal politics. Seth's mother, Agnes Findley, was born in Scotland. Precious little is known of his boyhood, except that he was frequently at odds with his father's strict rules. At the age of 16, Seth ran away from home, ending up in Montana at the home of his older sister, only to be sent home to his parents.
Apparently due in large part to his poor relationship with his father, Seth left home at the age of 18 and arrived in Helena, Montana in 1867, where, like his father, he entered politics. He ran for the Territorial Legislature at the age of twenty, but was defeated. However, he was elected a Republican member of the Territorial Senate of Montana, serving in the 1871-72 session, during which he introduced a resolution to set aside Yellowstone for all time to come as a national park. He had personally explored the region, and saw that its natural wonders should be protected. The resolution was adopted by the Territorial Legislature, and soon thereafter a similar bill was introduced in both houses of Congress. Yellowstone Park was established by federal statute on March 1, 1872.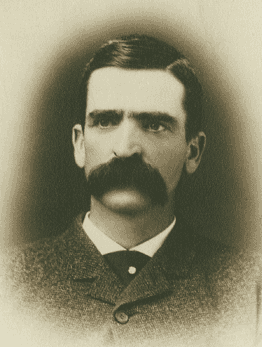 Bullock was elected Sheriff of Lewis and Clark County in 1873. In addition, he soon made a mark for himself as an auctioneer and commission merchant in early-day Helena, where he created a partnership with Sol Star in the hardware business.
Bullock married his childhood sweetheart Martha Eccles in Salt Lake City in 1874. Two years later Bullock sent his wife and infant daughter back to the security of her Michigan home, and departed for Deadwood, Dakota Territory, with Star to open a hardware business in the roaring gold rush camp. The pair arrived with a wagon load of mining equipment: axes, picks and shovels, ropes and dynamite, Dutch ovens, frying pans, and chamber pots. Bullock auctioned the utilitarian pots to high bidders the very night he arrived in the gulch, an amusing but lucrative beginning for the Bullock-Star business.
The death of Wild Bill Hickok in August of 1876, one day after Bullock and Star arrived, triggered a new demand for law and order in Deadwood, and resulted in Bullock's appointment as the first Sheriff of Deadwood a few months thereafter. Sheriff Bullock possessed an intimidating presence that was said to command instant respect. "He could outstare a mad cobra or a rogue elephant," his grandson said.
He quickly appointed several deputies in order to create "law and order" with little chaos or gunplay. Bullock also served as treasurer of the Board of Health and Street Commissioners, organized to combat a threatened smallpox epidemic.