A move to Deadwood has been a great decision for the Jacobs family. Originally from New Jersey, Scott Jacobs was declared the first official licensed Harely-Davidson artist in 1993. With the annual Sturgis Rally in South Dakota, Scott's artwork has quickly grown in popularity here in the hills. Fifteen years ago, the Jacobs family bought a house in the Black Hills and used it as a vacation/rally home. It wasn't until 2016 that they decided to make the move to South Dakota permanent.
Although he loved art and painting, Scott never imagined that he would pursue it as a career. In 1975, he joined his high school paper as the official artist at the recommendation of one of his teachers, and three years later he opened his first art gallery.
Art evolved from a hobby into a commitment. Scott says, "I was just drawing when I wanted to, but with the newspaper, every week I had to do a new illustration. I was thinking about art constantly."
In 1978, Jacobs bought his first gallery for under five thousand dollars. He had been working there under the previous owners for about three years, and when they were getting ready to sell, he expressed his interest. After not receiving any offers and just wanting to retire, they sold the gallery to Scott at a low cost to help him get his start in the art world.
At first Scott didn't show any of his own work, and then he gradually brought in pieces that he'd completed. For the first few years, he painted under the name Escotete to gauge the reaction from viewers. His photorealism work seemed to get the most positive response, so Scott pursued it further.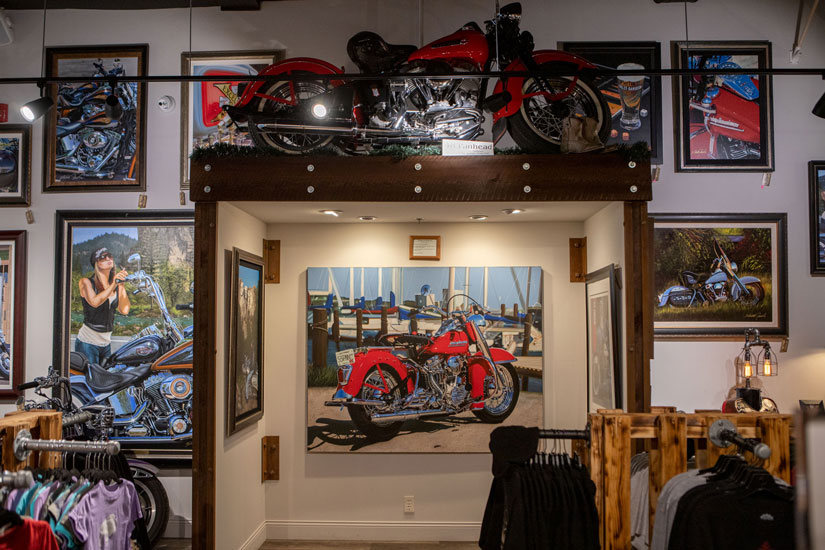 Coming up with content, Scott says, "I decided to paint things that would have the most appeal that people would want to hang. I thought about all of the American Icons: cars, motorcycles, wine, cigars, scotch, Marilyn Monroe, Mustangs, Corvettes, Elvis Presely and all these big popular American icons."
Making that decision in the early 90s led him to his contract with Harley. "My official contract started in early 1994; I thought it would be a two-year deal, maybe five if I was lucky, but here I am about 30 years later."
Painting all of the nuts and bolts is very challenging, and as an artist Scott is always excited for the challenge. The creative inspiration also keeps driving him every day. "To see an idea come to fruition is one of the best things," Scott says.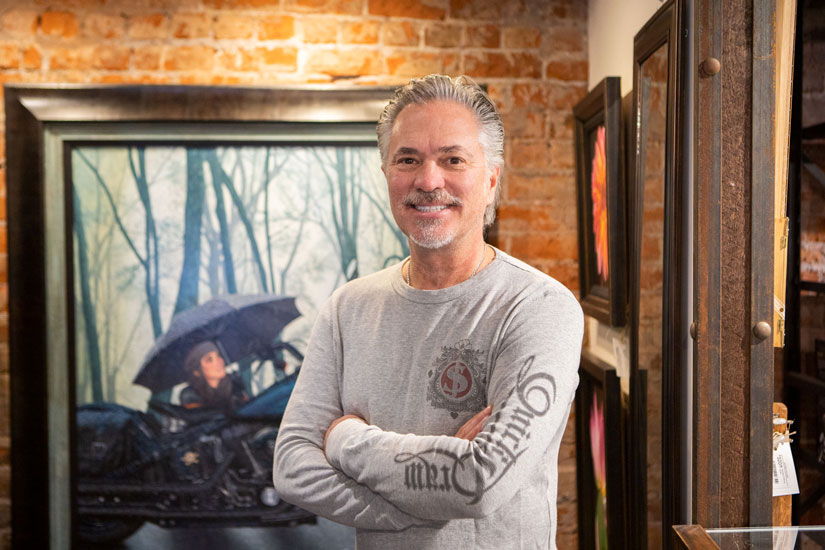 Now, Jacobs is known not only on a local and national level, but internationally, as well. He exhibits his work in more than 90 countries and on 116 cruise ships.
"A big success in our company is the family unit," Scott adds. People like coming into the gallery and seeing the faces in the artwork and seeing the involvement of everyone. Olivia and Sharon work on the business side of things and Alexa is another artist in the gallery. Starting as Scott's assistant, she began experimenting with her own style and has branched out on her own.
Scott says, "It's getting far and few between nowadays. With the internet, people can sit at home in their bed and order stuff online; you don't have that interaction. To me, the interaction is really important." Especially in the art business, it isn't the same if you're just browsing the work online. There's only so much detail you can see in a painting on a device; when you see something in person you can look at the brushstrokes and patterns more in-depth.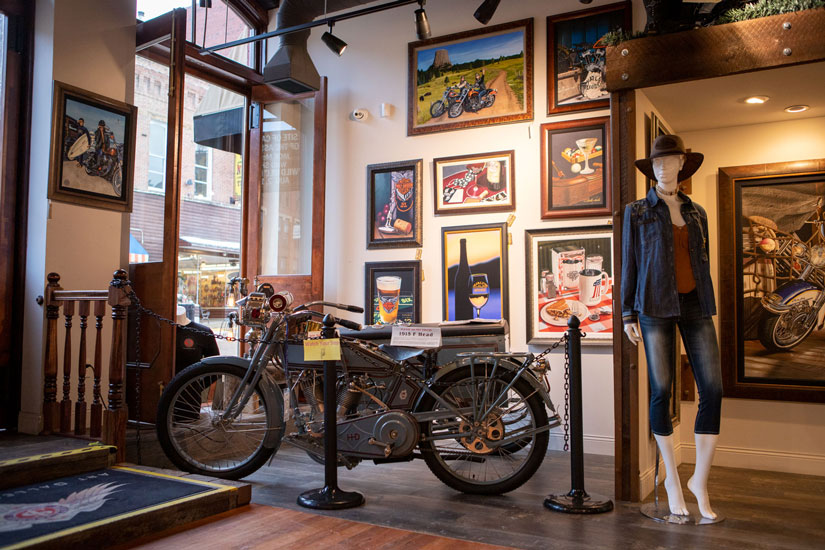 "When you walk into a gallery and it's lit right, has a beautiful frame, you can see the size of it and the way the light bounces off of it in person, it's a different experience."
Humbly, Scott adds, "I can actually say that I am living the dream; not many artists can do that."
The Process
Rather than working from set-up stills where the light is constantly changing from day to day, Scott takes and manipulates images to what he wants in a painting before beginning his work.
Working from photo reference maintains consistency in shadows and ensures accuracy.
"As a photorealist painter, you have to be accurate. When I'm doing a painting for Harley-Davidson, Indian Motorcycle or whoever it is, they're looking over my paintings with a fine tooth comb," Scott adds (Scott is a licensed artist for Harley-Davidson, Chevrolet Corvette Division, HotWheels Racing for Mattel Toys, Marilyn Monroe Estate, Ford Motor Company, Puervos Sabrinos and Elvis Presley).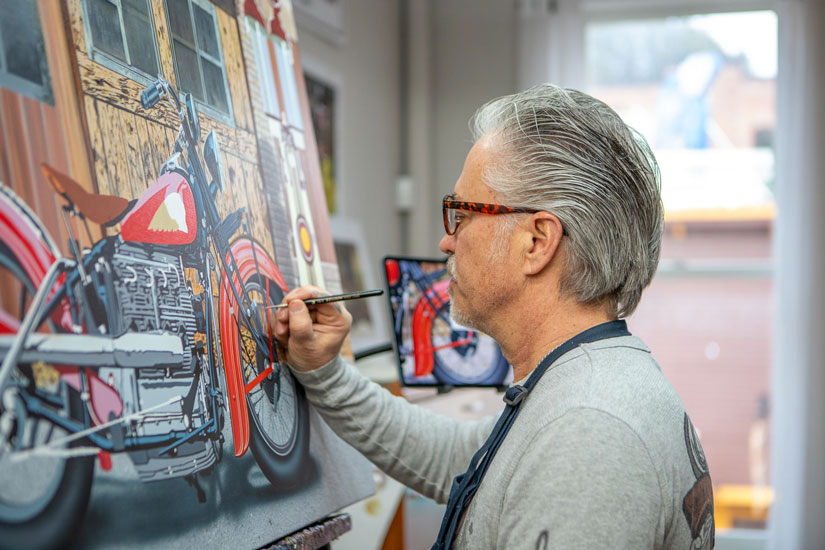 One of his favorite pieces, "Gimme Shelter," is a piece where his eldest daughter Olivia is crouching by a bike under an umbrella.
To create the photo for the painting, Scott's wife Sharon was on the balcony of their home in California with a garden hose creating a realistic rain, and Scott took the photo from the shelter of his garage.
Artist Advice
Offering one piece of advice for up and coming artists is difficult. The three biggest things Scott shares are:
You need to know how to market and sell yourself.
It is also important to remember, "it doesn't happen overnight." It takes a lot of time and dedication to become a successful artist.
Another artist shared with him, "You have to throw s**t on the wall and see what sticks." Don't be afraid to experiment. Do what makes you happy and see how people react; don't be afraid to fail.
WORDS & PHOTOS: Sarah Richards