Even if you aren't the type to seek out art, chances are good you have seen Derek Focus Smith's work around Rapid City. His canvas is brick and wood, his medium, spray paint. This former Community Engagement Coordinator for the Dahl Arts Center and current Creative Director at Thrive Creative is best known for his mural work.
A self-taught artist, Derek got his start in Salt Lake City at the age of 14. "I started doing the stuff that everybody hates, the stuff you see walking down the sidewalk: graffiti," he admits. As he honed his tagging skills, he began to reflect on the things he saw in his everyday life and began to take his work more seriously, focusing on portraits, landscapes, and everything in between.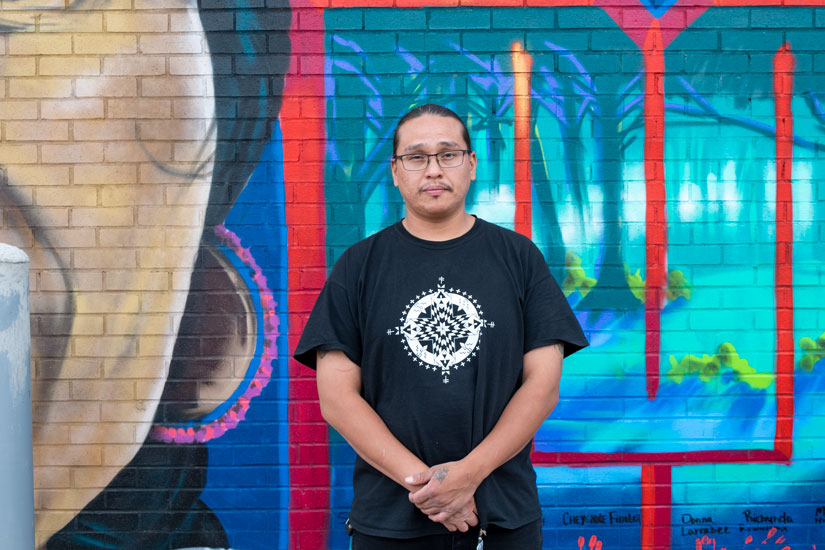 Derek is the first to admit that many people have a negative impression of graffiti. "I feel like the most popular connotation is that it's vandalism," he says. "But it's culture. People live this stuff, just like the Lakota culture."
That's what inspired his passion for the art form. Though he is very capable with a brush, canvas, pens, and pencils, the vast majority of his work involves spray paint. Derek didn't have much knowledge of his own culture; graffiti offered many valuable life lessons during his formative years. "Graffiti taught me how to live," he says. "How to raise my expectations, to get better, to push forward." He believes that graffiti culture is starting to become more mainstream and accepted as a legitimate expression of art and the movement will continue to build as people are exposed to positive examples.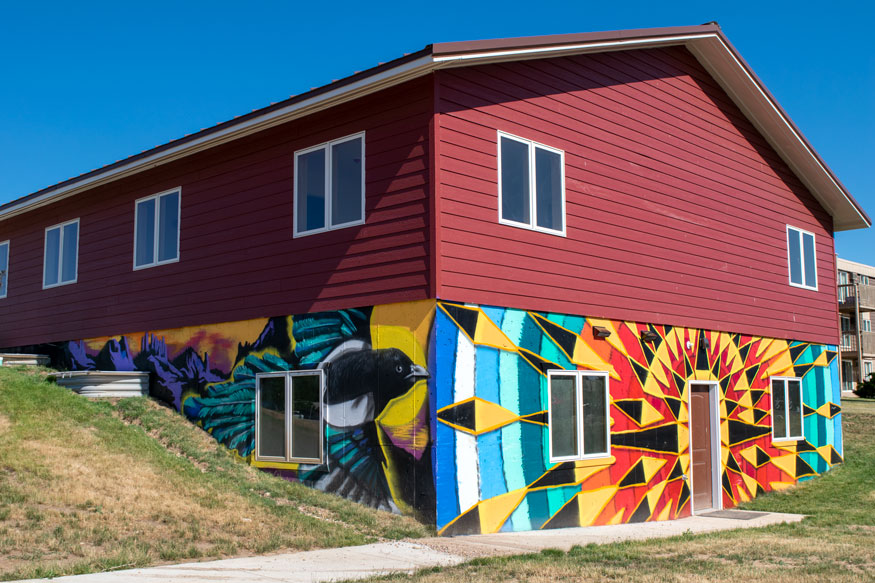 Derek was born in Orem, Utah, but moved around quite a bit growing up. He never truly felt like he had a home, but found himself drawn to Rapid City, where he formed connections with a close group of friends he came to regard as the family he never had. One of them was Aaron Peterson; together they formed About This Life Inc., South Dakota's first graffiti nonprofit. The organization's goal was to travel the globe, using the arts as a source of hope and inspiration. Eventually the pair went their separate ways; Aaron's work can be seen in murals painted on the Elks Theater and Firehouse Brewing Company, while Derek has done work for the Dahl, Rapid Skillz Sports Activity Complex, Rushmore Mall, and other local businesses.
His most recent project is one that touches him deeply. In May, Derek painted an MMIW (Missing & Murdered Indigenous Women) memorial on the back of the Woyatan Lutheran Church on Anamosa Street. While the MMIW movement focuses mainly on women, Derek wanted to include men and children because it happens to them, as well.
"Almost every Native family can say they either know or have had a relative that has gone missing or been murdered," he says. "That speaks to the high level of trauma that people are enduring."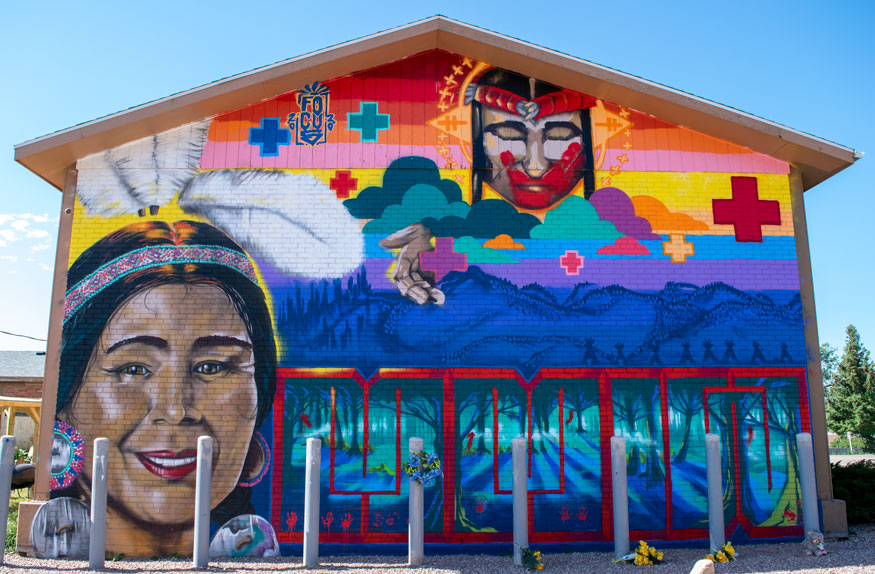 The MMIW mural offers a small bit of closure for affected families, some of whom have added hand prints and the names or initials of relatives to the building. As with all of Derek's work, the mural is rich in symbolism. "The portrait of the woman is nobody specific," he explains. "I wanted to adorn and give her all these things that you would traditionally see with the powwow. You've got the otter skin over the braids, the abalone shell, beaded earrings, and obviously the plumes, an homage to the Lakota culture and a correlation to the 'indigenous' part of the MMIW movement." The Black Hills are also represented; they're a consistent theme that Derek incorporates into all his work. Because the mural was painted on a church, Jesus is depicted with a symbolic hand print over his mouth. Other decorative touches include "crosses"—iconography popular in Lakota beadwork that symbolize stars.
Painting murals is challenging work, he concedes. Converting a drawing to a larger scale and getting the dimensions right involves trial and error; then there are other factors to contend with, including climbing ladders all day and dealing with inclement weather. "There's a lot that goes into this," Derek says. "Passing by, it looks like it just showed up!"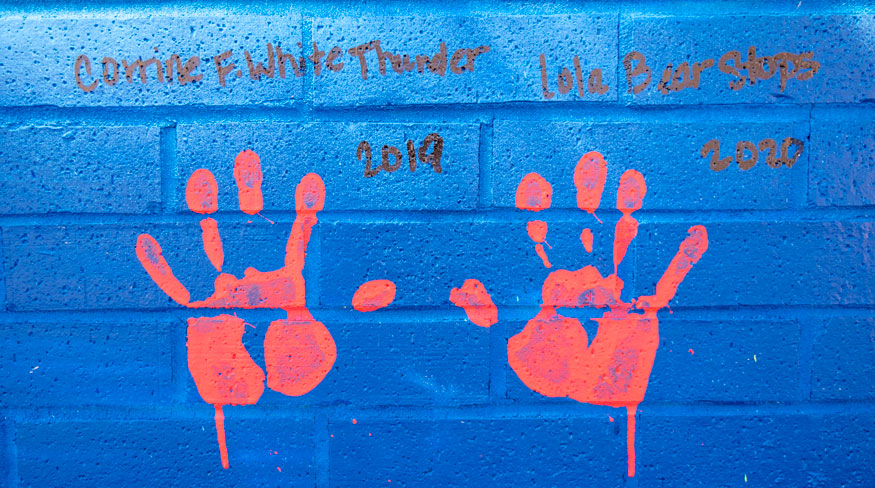 On average, a mural will last 10-12 years. Derek hopes his work inspires people and enables them to start seeking answers to their deepest questions. His main focus when creating a mural is on community—what people can do together. As with all art, he understands that the interpretation of each piece varies. "When people see it, they take away from it what is necessary for them to take away," he says. "I love that. It doesn't have any boundaries; it's me putting out this energy that is coming back to the community."
Derek currently works for Thrive Unltd., a collective of individuals from diverse backgrounds who work to empower indigenous communities and help them heal.
WORDS & PHOTOS: MARK PETRUSKA