Alice Ivers was born on February 17, 1853, in Devonshire, England. She and her family moved to Virginia when Alice was in her late teens, eventually migrating to Colorado where Alice married a mining engineer.
She and her first husband Frank Duffield settled in Lake City in 1875. Gambling being a way of life in many mining camps, she accompanied her husband to the gambling parlors and soon started sitting in on the games. After Alice's husband was killed in a mining accident in Leadville, Colorado, she began to play poker for a living, earning the name of Poker Alice.
She worked gambling rooms in Alamosa, Central City, Georgetown and Leadville. During this time she acquired a taste for cigars and was seen constantly puffing on black stogies. She met her long-term husband, Warren G. Tubbs, while gambling.
Tubbs and Alice were often adversaries at the gaming table. Tubbs never had much luck, and Alice usually beat him, but he supported his habit through painting. Alice's beauty, however, won his heart. Through her luck and skill, she was able to support their family of four boys and three girls. As a dealer, she attracted men looking for a challenge. Her impersonal facial expressions gave her great advantages, but she always carried a .38 revolver, and sometimes used it. Alice became Tubbs' caretaker during his last years, which were marred by tuberculosis.
Unlike some of the wild women of the Old West, she dressed fashionably and kept a neat appearance in spite of the cigars. In 1890 Alice moved to the Colorado mining camp of Creede where she managed tables for 8-hour shifts at Bob Ford's Creede Exchange. She became a well-known figure on the gambler's circuit at this location and later in Deadwood and the Black Hills. Her unusual luck, her skills as a dealer, her spending sprees in New York City, and her beauty brought her attention and admiration. Because of her upbringing she always refused to play on Sundays, even though it was a popular day for miners coming to town for their one day off.
After Tubbs passed away, Alice moved from Deadwood to Rapid City for a time, then to Sturgis. Once there, she met and married George Huckert. Few people came to know her as anything other than "Poker Alice." Huckert soon died; and for the third time Alice was widowed.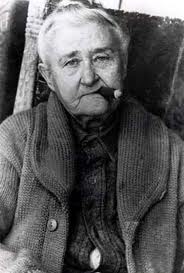 "At my age I suppose I should be knitting", said Alice in later years…"I would rather play poker with 5 or 6 experts than eat." Poker Alice's later years were tough. Money became scarce; she bootlegged alcohol to support herself until prohibition put an end to that plan. Alice then catered to the soldiers stationed at nearby Fort Meade by running a house of prostitution in Sturgis. A few engagements as a dealer followed, such as one at the Diamond Jubilee in Omaha. A lifetime of hard living and cigar smoking, however, had taken its toll.
Alice passed away on February 27, 1930 in a Rapid City hospital. She is buried at St. Aloysius Cemetery in Sturgis.
---
References:
Editor:
Sources:
Poker Alice by Mildred Fielder
Gold-Gals-Guns-Guts by Deadwood Centennial Committee