It's a story many aviation enthusiasts are familiar with: a chance encounter with aircraft that leads to a lifelong fascination. For Petra Wilson, a new love started after an encounter with hot air balloons.
When you're least expecting it
Petra and her husband, Brian, were simply enjoying a weekend together in Peoria, Illinois, without any solid plans.
"My husband and I were at a festival in Peoria, and one of the pilots approached us," Petra says. "He was looking for people to crew for him for the weekend and asked if we would be interested. We had never been around hot air balloons, but we said, 'why not?'"
Petra had previously been a crew chief for Navy F-18 Hornets, so she was no stranger to aviation. But after several days of helping setup and recover balloons, the two were hooked. "On the last flight of the weekend, we got to go up in the balloon as a thanks for helping out, and we just fell in love with it."
After the festival, they put their newfound love of balloons on hold for a few years. "We looked on and off for about 10 years and never really did anything," Petra says.
When the couple eventually moved to Sioux Falls, Petra decided to look into the sport again. "I found a pilot who was willing to let me crew for her, and eventually I decided to take lessons. Shortly after, a balloon came up for sale, and in 2013 we officially bought our first balloon," she says. Once she was licensed, Petra started flying with family and friends, and took her balloon to nationals. She had to retire her first balloon due to its age, but Petra didn't let that keep her out of the air.
From Stratobowl to Fall River
The Black Hills have an interesting history involving hot air balloons. Just south of Rapid City is the Stratobowl, where the Explorer II reached a height of 72,395 feet in November 1935. Since then, many aeronauts have launched from the Stratobowl in search of glory, or simply fun. There's even an annual event where balloons from the area launch in commemoration of the record flight.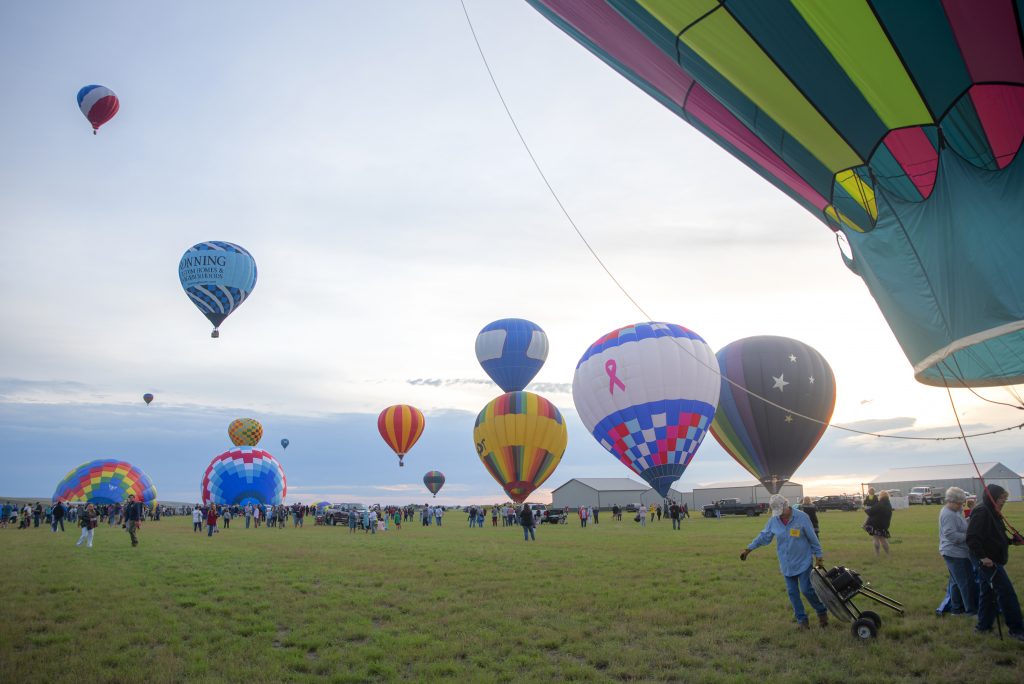 When Petra moved to Hot Springs, she was the only balloon pilot in the area at the time. Even so, she saw the opportunity to bring together a group of people while benefiting the new community she called home.
"I thought, there's always more fun when there's multiple balloons flying, and looking at Hot Springs I was thinking about how I could bring something new to the town. I went to the chamber here and asked if they'd ever thought about hosting a balloon festival," Petra says.
The first year was a small group of balloon enthusiasts — mostly people Petra had met during her journey to become a pilot. "We only had four balloons the first year," she says, "but the next year we had ten, and it's grown every year since."
The Hot Springs Chamber of Commerce has taken over organizing the festival, with Petra serving as the festival's balloonmeister. It's become a local and tourist favorite event in the fall, and it's perfect for kids of all ages. Since the chamber has lead the festival, so many balloons have signed up they've had to expand the local airport, and they hope to expand the festival into a weeklong event.
Check off the bucket list
Flying in a balloon is a rare experience for most, and it's an adventure that's frequently on bucket lists. A flight can be pricey, but launching a hot air balloon is an orchestrated process that takes a crew of at least three to accomplish safely. The reward is spectacular and well worth it, however; drifting over some of the most incredible landscapes in western South Dakota from a wicker basket is an experience not to be missed.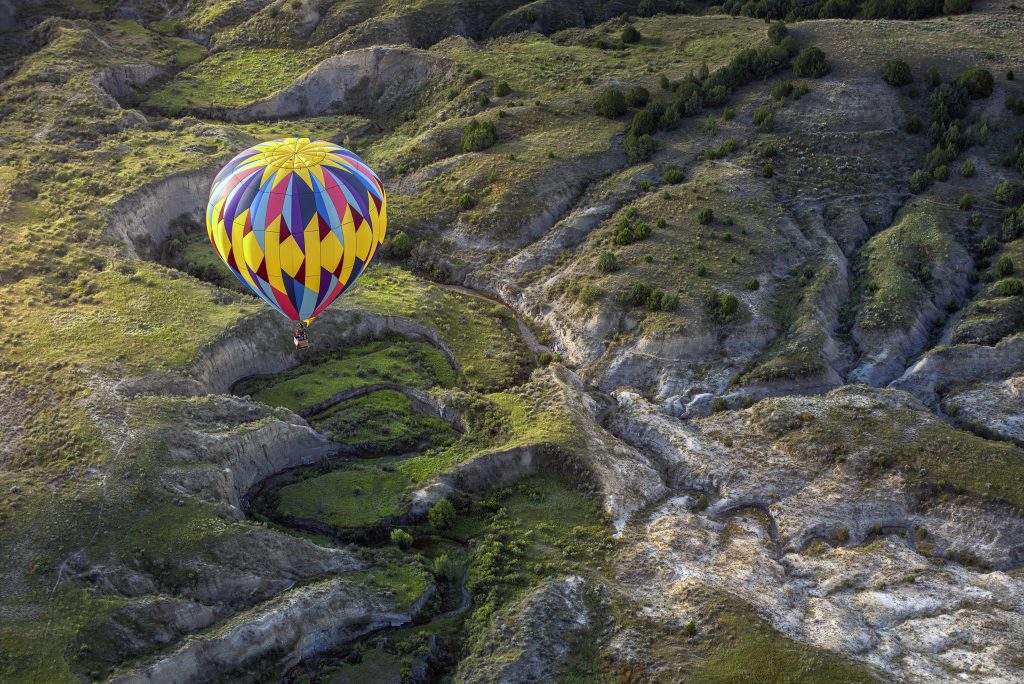 "Flying in a balloon is unbelievable. It's something you really have to experience to appreciate," Petra says. "Seeing everything from above is breathtaking and exhilarating at the same time. It's really an experience that everyone should do at least once."
If you've never been in a Hot Air Balloon before, Petra and her team at Western Horizons Balloons are excited to take you up. See their website for details.
WORDS: ASHLEY JOHNSON
PICTURES: JESSE BROWN NELSON