Hot air balloons capture our imagination like few other things do. Perhaps it's the bright colors, the excitement of flying, or simply how they remind us of balloons from when we were kids. Whatever it is, we continue to be fascinated with them, which is why there are few events as magical as a hot air balloon festival. Luckily, Hot Springs is home to one that is quickly becoming a must-see event.
The Hot Springs Area Chamber of Commerce Fall River Hot Air Balloon Festival started out as a simple gathering of local pilots. Led by Petra Wilson, who owns and operates Western Horizons Hot Air Balloons, the first group of four pilots took to the skies and realized the opportunity existed to share the world of hot air balloons with the Black Hills. After that first year, Petra got the Hot Springs Chamber of Commerce involved, and the Fall River Balloon Festival took off. 
After six years the festival has quickly grown from a small group to more than 30 balloons, but the number of participants isn't the only thing that's changed.
"We went from just four pilots and about 80 spectators to over 30 balloons in 5 years of the Hot Springs Chamber of Commerce coming on board," says Executive Director Olivia Mears. "Not only that, the festival is now a weekend long event, including two balloon launches, vendors, family fun, and musicians at the park, and organized events like a 5k and a pancake breakfast."
It's the perfect family friendly event to close out the summer and celebrate the coming of fall. Not only that, it's a great excuse to revel in the picturesque town of Hot Springs.
Where to see balloons
If you're headed to a hot air balloon festival, it makes sense that the balloon launches are the number one thing to see. Launches happen right at sunrise: the air is the most stable before the sun comes up, which is why balloons prefer to fly in the morning. The early wakeup is worth it, however. Sunrise makes an incredible backdrop for an already breathtaking experience. Balloons launch around 6 a.m., but you'll want to get to the airport early to park and find a spot to watch. Launches are weather dependent — so be understanding if a launch is cancelled.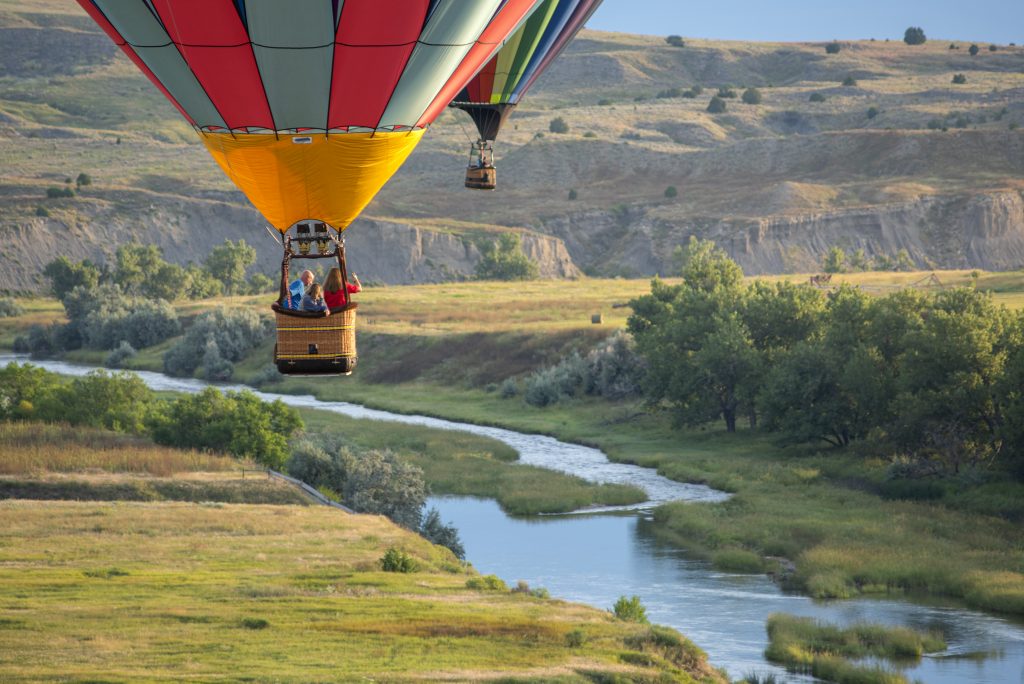 If you don't want to get up early, you can still get up close and personal with balloons during the festival. Head to the Mammoth Site from 9-11 a.m. on Saturday for the walk-in balloon sponsored by Western Horizons Hot Air Balloons. A balloon is set up by a crew on the lawn where you can walk inside the envelope. Balloons used for this purpose are often retired from flying, and you'll get an appreciation for how big they really are. The walk-in balloon is also a great chance to chat with pilots and crews, as several will be on site. 
New this year is the Glow Around Town, where small clusters of balloons will be anchored to the ground and inflated at night. The result is a display of glowing balloons around town lighting up the night. Locations include Centennial Park, the State Veterans Home, Butler Park, the Mammoth Site, and Mueller Center Field. The balloons at the State Veterans Home include Freedom Flight and other patriotic balloons as a special tribute to our service men and women. No matter which locations you visit for the Glow Around Town, the Hot Springs Chamber of Commerce asks that you park legally in designated areas, and not on the side of the road.
Other festival highlights
Hot air balloons may be the main attraction, but the Fall River Hot Air Balloon Festival has tons of fun to offer.
The festival kicks off on Friday in Centennial park. You can enjoy food and craft vendors, live music, and kids activities in the park starting in the afternoon until 10 p.m. that evening. The Hot Springs Farmers Market will also be open, so you can stock up on snacks and delicacies. Local favorites include homemade spices, donuts, goats milk soap and lotion, handcrafted jewelry and leatherwork, home decor, and much, much more!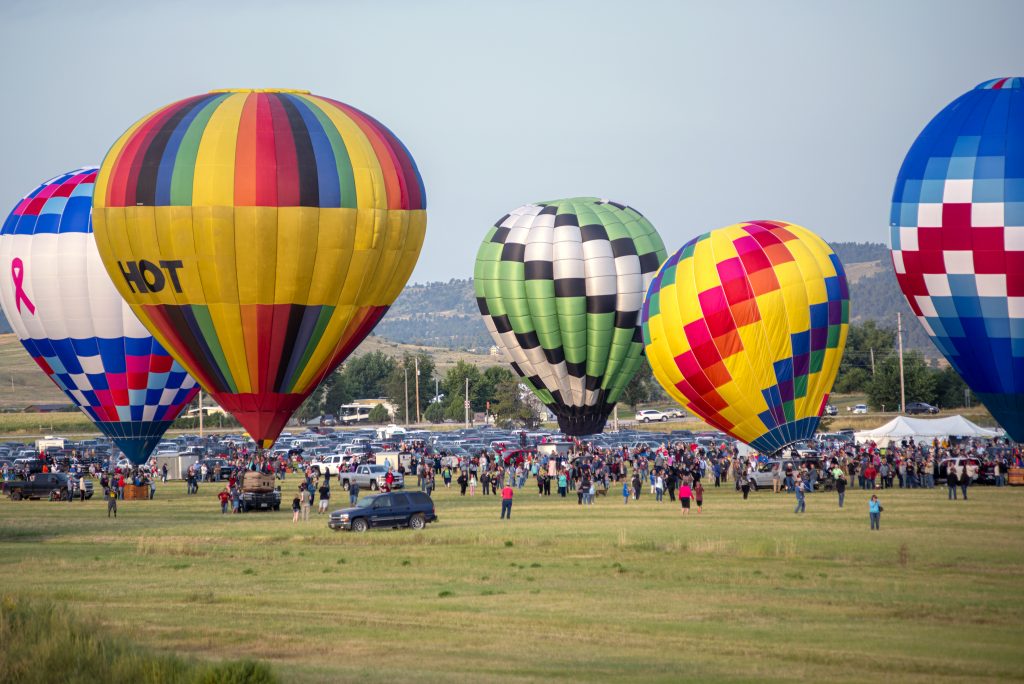 On Saturday the fun starts early with the balloon launch at sunrise, but it certainly doesn't stop there. Grab a breakfast burrito at Centennial Park or head to the American Legion for a pancake breakfast. The SHRec BalloonFest 5k fun run kicks off at 8:30 from Centennial Park, or for the younger crowd, there's a kids fun zone and inflatable area at the park and sidewalk chalk art downtown. There will be live music all day, with bands from around the hills playing at various venues.
Get out and explore
The best part of the festival is really getting a chance to see and experience the Black Hills' Picture City. "With the help of her and other volunteers in our community, we're really able to put on a great festival," Olivia says. "It's a fun way to get people to come out and experience all the great things that Hot Springs has to offer. That's why we keep the festival free: we want our guests to come out and enjoy it, but also want guests to visit all our great businesses here in Hot Springs."
For the full schedule of events with times and locations, see the festival website here.
To check out other businesses and attractions in Hot Springs before you go, see the Hot Springs Chamber of Commerce website here. 
WORDS: ASHLEY JOHNSON
PHOTOS: JESSE BROWN NELSON