Native American tribes in the Minnekahta Valley of the southern Black Hills referred to the area as mni kȟáta ("hot water") thanks to an abundance of natural warm mineral springs. The Sioux and Cheyenne people considered the springs sacred and long congregated there to take advantage of the water's therapeutic properties. When European settlers arrived in the latter half of the 19th century, they originally called the town by its Lakota name, Minnekahta, but changed it to the easier-to-pronounce Hot Springs in 1882.
These early settlers were drawn to the mineral-rich thermal springs (six of which surface from the ground within the city's limits) for their perceived healing properties. Unlike other communities in the Black Hills that popped up to take advantage of the gold rush, Hot Springs staked its fortunes on its water. One of its most influential proponents was Fred Evans, a logger and freighter who envisioned turning the entire town into a health spa to take advantage of the burgeoning tourist trade, beginning with the construction of an upscale hotel called the Minnekahta. Evans also had a hand in bringing electricity to Hot Springs, building the city's water system, and encouraging the railroads to extend their lines to the town, with one spur passing by his sandstone quarry. This set the stage for the city's renowned sandstone architecture, a signature to this day.
In May of 1891, Evans tapped into the 87-degree waters of the largest thermal spring and built Evans Plunge, a bath house that became an immediate sensation, drawing visitors from throughout the region seeking a place to swim, soak, and relax. It is the oldest tourist attraction in the Black Hills.
By 1893, a number of sandstone buildings designed in the Romanesque style—characterized by thick walls, semicircular arches, barrel vaults, large towers, and decorative arcades—had been erected. With services springing up to meet the tourist demand, the town's population swelled to 3,500. With the spa business thriving, a national hospital for veterans called Battle Mountain Sanitarium opened in 1907, a forerunner to the modern-day Department of Veterans Affairs. This helped position Hot Springs as "The Veteran's Town," with a Veteran's Administration Health Care facility and State Veteran's Home eventually following suit.
Today, Hot Springs embraces its past while looking toward the future. The natural warm springs still attract residents and visitors to Evans Plunge, and the town's connection with veterans remains strong; Battle Mountain (designated a National Historic Landmark in 2011) and the other facilities are still in operation. Downtown is characterized by its distinctive pink sandstone buildings, and newer attractions such as The Mammoth Site entice a new generation of visitors to this town on the southern edge of the Black Hills.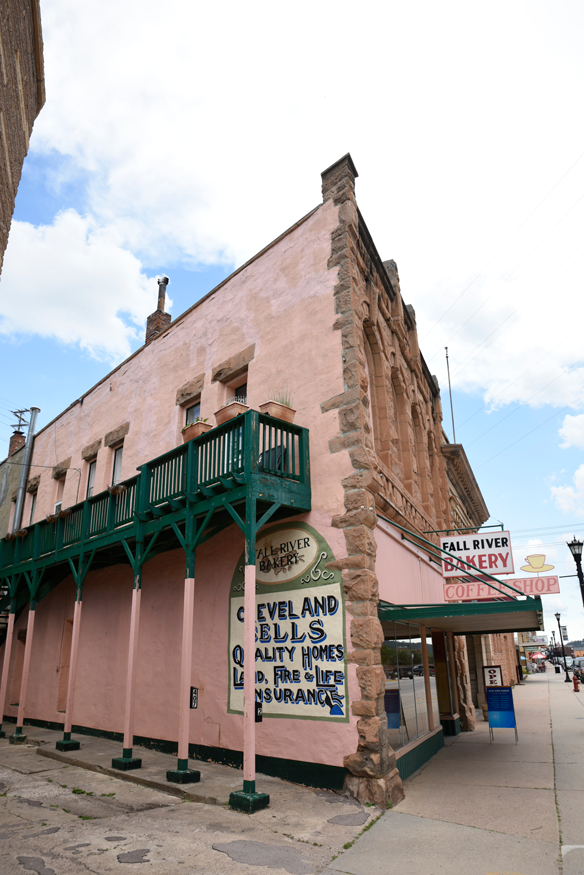 Learn More
For more information on attractions and events in Hot Springs, visit us here.