Clarence "Pappy" Hoel, a Sturgis motorcycle shop owner, founded the Jackpine Gypsy Motorcycle Club, one of the first motorcycle clubs sanctioned in America.
Today the Jackpine Gypsies have members throughout the United States and have sponsored motocross, dirt track races, hill climbs, and road tours at the Sturgis Rally throughout its 70-plus year history. (The rally was canceled for 2 years during World War II.)
Pappy is also credited with organizing the first Sturgis Rally in 1938. That rally consisted of 9 riders who raced on a half mile dirt track for beer money. Visiting riders were encouraged to explore the scenic highways of the Black Hills after a weekend of racing and the modern Sturgis Rally serves the same purpose . . .and so much more!
The 50th Anniversary Rally was the first of the "mega" rallies; when an estimated 350,000 cyclists arrived for the event. Although Pappy had witnessed phenomenal growth in the events over the years, he unfortunately passed away shortly before the huge 50th Rally.
The Black Hills provides a beautiful backdrop with a number of winding, scenic highways in the Hills, perfect for touring. Nearly all bikers make a trip to see Mount Rushmore, and many travel to the northwest corner of the Hills to see Devils Tower. The moonlike landscape of the Badlands is also a popular riding area.
The official Sturgis Motorcycle Rally runs through the first full week in August, but motorcyclists start appearing on South Dakota highways late in July, and many stay a few days after Rally Week to sample the Black Hills in a quieter mood.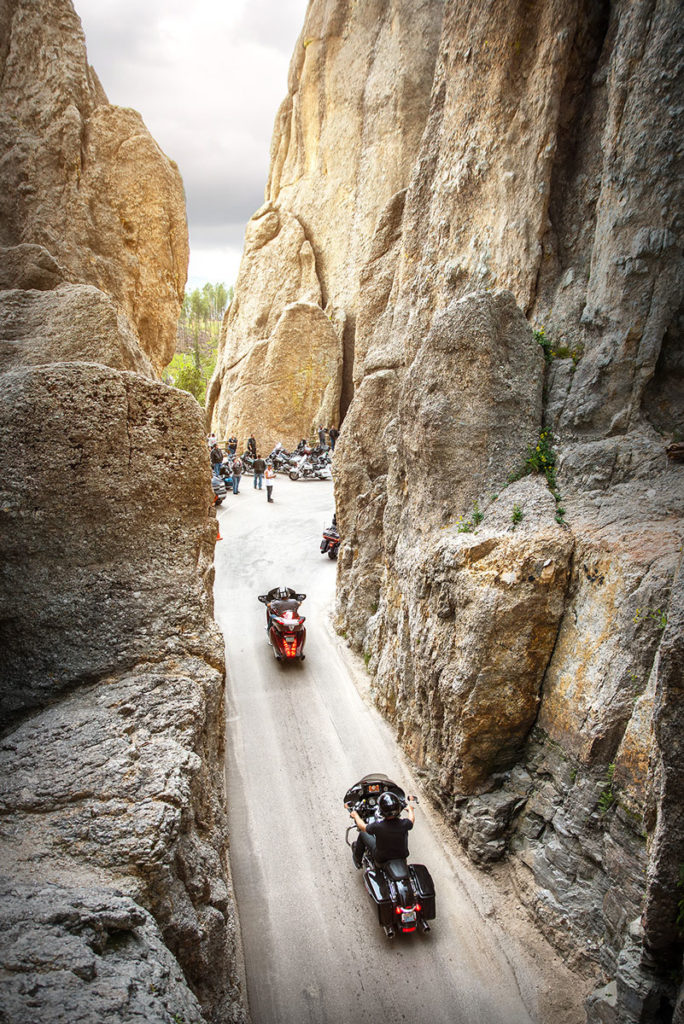 Sturgis and surrounding communities prepare all year for an influx of at least 500,000 cyclists for the Rally. Each year the Department of Motor Vehicles has employees positioned around Sturgis to count cyclists as they arrive, still, rally totals have always been estimates and the numbers vary according to the source.
Although Sturgis remains the focal point of the Rally, other cities in the Black Hills have established special events to accommodate the growing number of participants.
As the Rally has grown it has actually become a regional event. In fact, all the motels and campgrounds within a hundred miles of Sturgis will be short on vacancies the week of the Rally.
Each year thousands of vendors set up shop in Sturgis and surrounding communities to sell a variety of products to the riders. Food, t-shirts, jewelry, leather, and bike accessories are for sale in tents on virtually every street corner and parking lot.
Harley-Davidson motorcycles are the bike of choice for most rally participants, yet it is possible to see bikes of nearly every model and description. Harley-Davidson rents a part of the Rapid City Civic Center each year during the rally to display its new products and accessories. In recent years several new companies have introduced motorcycles at Sturgis in an attempt to compete with Harley-Davidson's dominance in the market.