When sisters Rebecca and Hannah thought about opening an ice cream shop, it started as nothing more than a fun idea — a sort of "what if" scenario. They happened upon a shop closing in St. Louis that was selling their equipment, and "what if" became, "why not?"
"We were both at a point in our lives when we wanted to do something different, but we weren't really sure what. We both have experience in the food industry, and we both love ice cream," Hannah says. "We also both went to college in towns where ice cream is very much part of the community, and when Spearfish didn't really have that, we saw the opportunity." Leones' Creamery opened its doors for the first time in November 2014, and they've been a Spearfish staple ever since.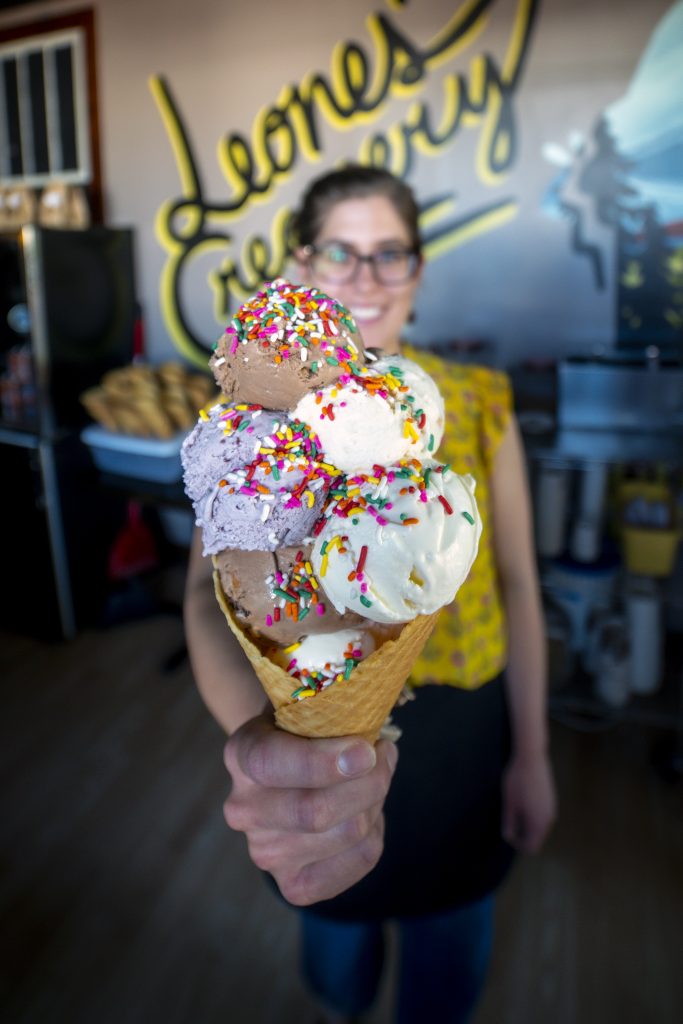 "We take a lot of pride in our product. We're kind of sticklers about what we put out, so we take a lot of care and make sure we're putting out the best ice cream possible."
Now that they're several years into the business, Leones' Creamery has expanded their indoor space and flavor offerings. The menu is always changing, but they always keep some sort of vanilla and chocolate flavor in the mix. They also have at least one vegan flavor made with coconut milk available for those who need a non-dairy option. Otherwise, they enjoy experimenting with different flavors, and past favorites include blueberry goat cheese and London fog.
Leones' Creamery keeps it local
Supporting other local businesses is important to Rebecca and Hannah. They try to source as many ingredients from around Spearfish and the Black Hills as possible. In the past they've teamed with Crow Peak Brewing to create a smooth, roasted chocolate ice cream named after their Pile of Dirt Porter. Other ingredients they source locally include honey from Sunrise Hives based in St. Onge, and add-ins like rhubarb from Cycle Farm in Spearfish. They also make ice cream sandwiches with donuts from 8th Avenue Bakery in Belle Fourche, but they're only offered a couple times a year so be sure to ask! 
A great ice cream shop goes beyond just what's behind the counter; the atmosphere is a big part of what keeps customers coming back. Inside Leones' Creamery you'll find an inviting space with cheerfully painted walls and an impressive bar top covered in pennies. Their wall hosts a chalkboard where you can "scoop it forward," or buy a friend a free treat. It's so popular the board routinely fills up beyond capacity. Fortunately, all names are copied down and kept in a spreadsheet so recipients can get a treat at their leisure. 
more than just ice cream
The fun isn't contained to just the inside of Leones' Creamery, either. "The green space we have outside, even though it's shared, has been such an awesome thing for us," Rebecca says. "It's great for people to be able to sit or just mill around and enjoy their ice cream and hang out." Leones' Creamery has their own tables outside, but there's also a lawn with shade trees to lounge under, and a library-on-a-stick that provides an excuse to hang out even after your ice cream is gone.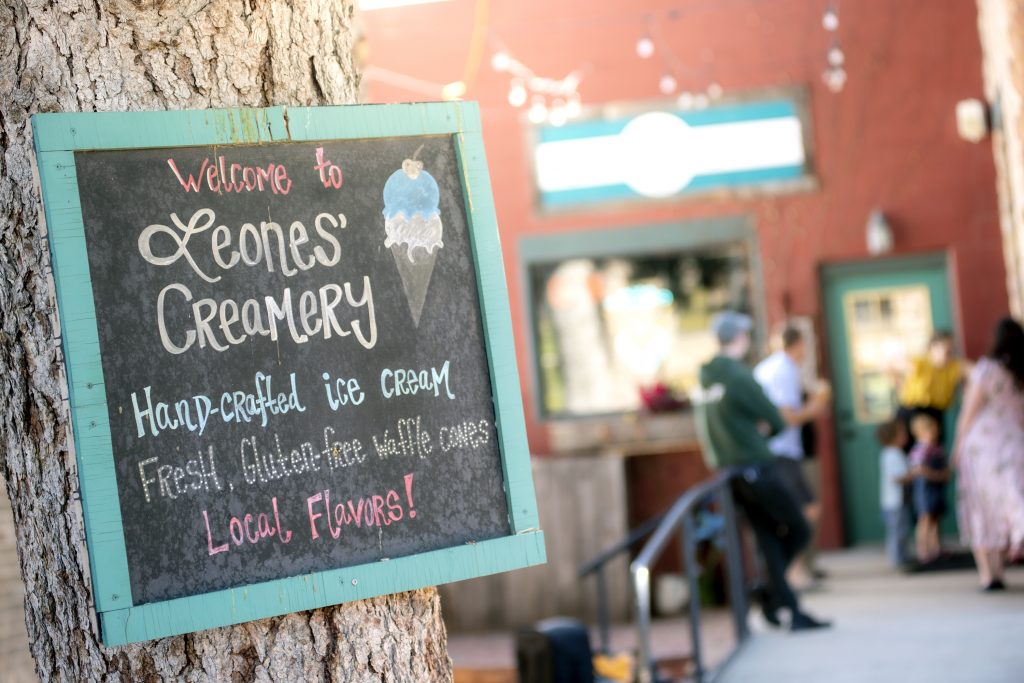 While ice cream is traditionally a summer treat, the crew at Leones' Creamery knows that our sweet tooth doesn't hibernate. They reduce their hours after summer winds down, but they make sure their fans can still get their hands on a sweet treat when it's cold out. "We don't completely close in the winter, because we know people still want ice cream — and we really love making fun holiday flavors — so we try to stay open at least on weekends," Rebecca says.
No matter what time of the year you make it to Leones' Creamery, one thing is for sure; you'll be greeted with a smile, and get a chance to enjoy some of the best ice cream in the hills. "We take a lot of pride in our product. We're kind of sticklers about what we put out, so we take a lot of care and make sure we're putting out the best ice cream possible," Hannah says.
Headed to Spearfish? Check out the latest list of flavors at Leones' Creamery here.
WORDS: ASHLEY JOHNSON
PHOTOS: JESSE BROWN NELSON