Rapid City's newest addition to its City of Presidents collection of statues was unveiled to the public Saturday during a free event at the Elks Theatre. The life-size bronze sculpture of Barack Obama is the 44th statue to be placed downtown, joining the ranks of every former president, from Thomas Jefferson to Millard Fillmore (the butt of a little good-natured ribbing during Saturday's ceremony).
The City of Presidents Board was formed in 2000 to guide members through the task of honoring America's presidents. The idea was the brainchild of local businessman Don Perdue, who had observed how interested people were walking by a statue of Abraham Lincoln in front of the Alex Johnson Hotel during the 1980s. It took up temporary residence there during the winter months, when the museum in Keystone that normally housed it closed for the season. Perdue's interest fell idle until 1999, when he bumped into art entrepreneur Dallerie Davis and they got to talking about a privately-funded project that would pay tribute to every U.S. president while also garnering attention from visitors and locals alike. A number of artists were commissioned to get the ball rolling, including several that Davis herself represented. Four statues were erected per year over a 10-year period, with the Board scheduling placements to avoid charges of political favoritism; this meant installing two presidents from older administrations and two more recent leaders each year for a decade until all were placed.
"We are about history, we are not about politics," Davis explained in a speech during Saturday's ceremony. She was one of several key Board members in attendance, including Don Perdue (now retired) and his son and current Board president, Richard Perdue.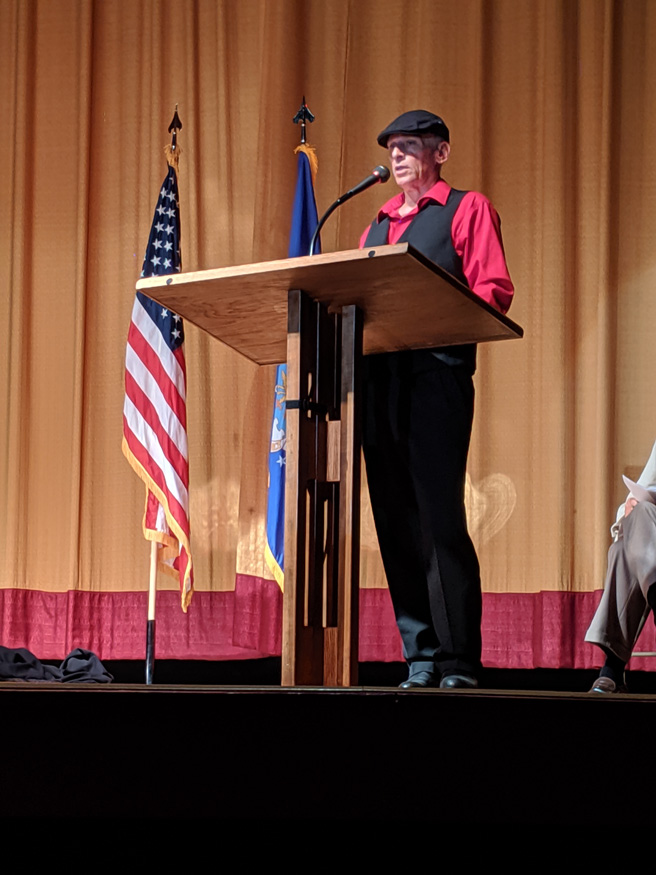 Audience members filing into the theater saw the statue, draped in a red and blue cloth to maintain secrecy, taking up a position of prominence in the center of the stage. Sculptor James Van Nuys, a local artist and musician, entertained the crowd with his virtuoso guitar playing; he was eventually joined onstage by blues artist Bob Fahey for a couple of musical numbers. The Color Guard from Ellsworth Air Force Base presented the American flag, the National Anthem was performed, and several key players talked about the genesis of the Obama statue, from conception to final design, including ideas that were ultimately rejected. Van Nuys got the biggest laugh when he asked the capacity crowd, "Where were you guys when they unveiled my Millard Fillmore statue?"
Finally, the big moment arrived; the cloth was dropped and the statue – featuring a waving former president Barack Obama holding his daughter Sasha's hand – was revealed to thunderous applause. The sculpture was based on an iconic photograph taken during Obama's first inauguration. Van Nuys spent between 400 and 500 hours working on the piece, winning over the City of Presidents Board, who were – in Dallerie Davis' words – looking for "a wow factor."
Mission accomplished.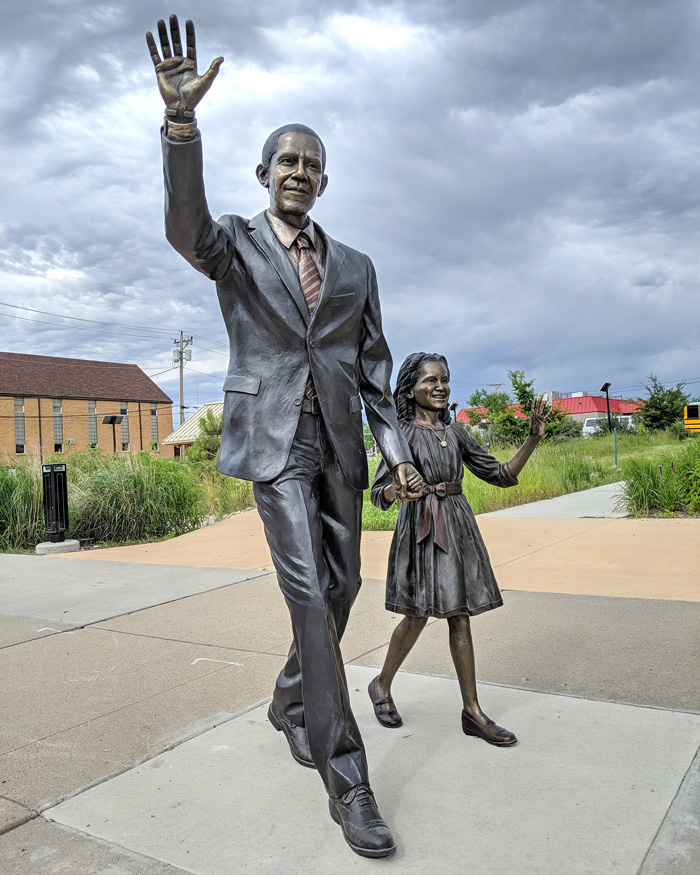 President Obama's statue was placed on the corner of 4th and St. Joseph Streets downtown, directly across from The Garage. Within an hour of its installation on Monday morning, it was already drawing crowds.
---
WRITTEN BY MARK PETRUSKA