Football isn't big at local colleges, except for one day a year at the Black Hills Brawl. This annual game is more than a face-off between teams; it is a face-off between the universities' cultures. Hundreds of rowdy fans and tailgaters gather as rival teams from Black Hills State University and South Dakota School of Mines & Technology battle it out on the field for the coveted Homestake Trophy—and, even more importantly, bragging rights.
The Rapid City Journal describes it as "the longest rivalry in Division 2 college football, dating back to the 1895 season." The first official year of the brawl was in 1900 and, to the grudging dislike of Black Hills State (then called Spearfish Normal), Mines won or tied every game for the first 14 games spanning 16 years, except for a tie in 1906. Spearfish finally won 13-0 in 1916. The entry in the Spearfish Normal yearbook from that year reads:
"The impossible has been accomplished, the undoable has been done, the insurmountable has been surmounted, the jinx of 20 years has been annihilated, a dream has become a reality. We beat the Mines."
Since then, the rivalry has been fairly evenly matched, with some teams having streaks of wins before the other team regains its footing. From 1987 through 2012, for instance, South Dakota School of Mines won only six games. The 2010 game was narrowly won by Mines 23-20 with two overtimes. As of 2019, Mines leads 63-59, with 11 ties between them. Last year's game was a blowout, with Mines winning 62-14, but this year's winner is anybody's guess.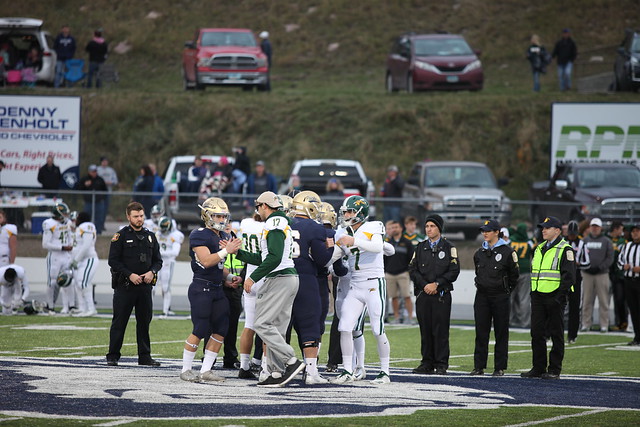 Like most classic university rivalries, it started over a clash of cultures. The School of Mines is an engineering school that only offers degrees in hard sciences. Black Hills State offers a larger variety of degrees and has a College of Liberal Arts, College of Business and Natural Sciences, and College of Education and Behavioral Sciences. To BHSU students, Mines is a school of nerds; to Mines alumni, Black Hills State students are unemployable and uneducated. This culture clash can be seen in the signs students bring. Mines students' signs read, "Fear the sting of unemployment," while BHSU signs read, "Sex kills – go to Mines and live forever." This saying has been plastered on t-shirts and worn ironically by Mines students at the game.
The annual clash is held every fall at either O'Harra Stadium in Rapid City or Lyle Hare Stadium in Spearfish. This year's game (the 134th meeting between the rivals) is scheduled for October 12 at BHSU.