Wyatt Earp has been popularized as the fearless frontier lawman of the Kansas cow towns, and as the main character in the incident known simply as "the Gunfight at the OK Corral." But the checkered Earp legend also cast a portion of its shadow on the Black Hills.
Wyatt Berry Stapp Earp was born in Monmouth, Illinois on March 19, 1848. The family moved to Pella, Iowa, in 1849, and on to Colton, California, in 1864 where he was later employed as a teamster and railroad worker. He was quite loyal to his large family, including brothers Virgil, Morgan, and James. Wyatt returned to Missouri and married in 1870, but after the sudden death of his new bride Urilla, he drifted the High Plains working as a buffalo hunter, railroad laborer, and stagecoach driver. It was during this period that Wyatt befriended a young Bat Masterson.
He arrived in Wichita, Kansas, in 1875 where he joined the police force. In 1876, he moved to Dodge City, Kansas, where he took a job as a faro dealer as well as assuming the position of assistant marshal. During this period Wyatt established his reputation as a lawman and proficient gambler. It was also here he met his longtime ally John "Doc" Holliday. Bat came to town and was hired as one of Wyatt's deputies. Masterson once characterized Wyatt as "a shy young man who did not drink liquor, and was more intelligent, better educated and far better mannered than the majority of his associates." Masterson quit the force in the summer of 1876 and headed north to a gulch named Deadwood in search of his fortune.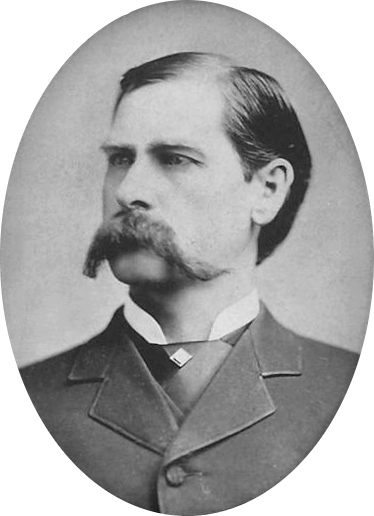 According to Stewart Lake's biography of Earp, the one constant in Wyatt's life was wanderlust, trying new things, and the pursuit of wealth. The gold strike in the Black Hills of Dakota became too much of a temptation for him to pass up.
So, Wyatt and Morgan left Dodge City for Deadwood on September 9, 1876, in a wagon drawn by the best four-horse hitch money could buy, heading for new opportunities in the booming Black Hills.
At Sidney, Nebraska, they met up with Bat returning south to Dodge City. Masterson warned the Earps that Deadwood was overcrowded with prospectors. "I've started for Deadwood and I'm going in," insisted Wyatt. "I may strike something the rest have overlooked."
Pointing their horses northward, Wyatt and Morgan headed for the hills. The brothers arrived in Deadwood to find the situation exactly as described by Masterson; Deadwood gulch was jammed with prospectors, miners, promoters and fortune hunters. After looking over the situation, Morgan decided to return to Dodge City before winter closed in. Wyatt was convinced that a sober man could prospect for gold dust at the gaming tables of Deadwood saloons. It also been reported (one account from Seth Bullock's son) that the Earps had been recruited as "muscle" by some party in Deadwood to help with mining claims, and didn't just show up looking for color.