Most people who live in Rapid City have at least a passing knowledge of Earl Brockelsby. The name might not be familiar, but his legacy is an impossible-to-miss attraction located alongside Highway 16 on the way to Mount Rushmore. Earl founded Reptile Gardens in 1937, four years before the mountain carving was even complete—a testament to his vision and forward-thinking, and quite an achievement for a man born in the tiny town of Kadoka, on the edge of the Badlands. Born in 1916, Earl came of age during the Great Depression and the Dust Bowl, but refused to let those tragedies dissuade him from dreaming big. He was one of the first to recognize the potential of automobile tourism, and ended up creating not only one of the most popular tourist attractions in the Black Hills, but the world's largest reptile zoo…in a relatively unpopulated part of the country where it's possible that the facility's famed snakes might actually outnumber people.
Rattlesnake Under His Hat Book Review
The Brockelsby family commissioned author Sam Hurst to pen a biography about Earl. The result, Rattlesnake Under His Hat, is a fascinating, no holds barred look at a complex—and troubled—visionary. The book reads like part-novel, part-travelogue, as we follow Earl's rise to prominence from humble beginnings in the sleepy burg of Kadoka, a no-man's-land on the outskirts of the Badlands, to his trips into the furthest reaches of civilization, jungle-choked Papua New Guinea, where he relied on his own wits and trusty Hasselblad camera to befriend people only a generation removed from cannibalistic rituals. It was quite a ride, and we are along for every step of the journey, from Earl's early days as a tour guide for the long-forgotten Hidden City and petrified rock salesman to his eventual success with Reptile Gardens. Not all his ventures were successful—for all his sales skills, Earl never could convince the public that squirrel monkeys made good pets—but like all good businessmen, he learned from his mistakes and was inspired to try even harder next time.
Hurst had access to a treasure trove of reference materials; Earl kept extensive notes, and his children (all the siblings were involved in the project) granted him full access to these archives. As a result, the author does a remarkable job of capturing his subject's mindset. The reader can't help but feel a kinship with Earl as we delve into the deepest (and darkest) recesses of his mind. Earl's successes are all the more impressive when measured against the backdrop of the times and his own personal circumstances: emotionally distant parents, the separation from family and economic fallout during World War II, a damn-the-consequences penchant for taking risks.
One of Rattlesnake Under His Hat's biggest strengths is its uncompromising look at the whole man, warts and all. Earl was imperfect; Hurst does not shy away from his struggles with mental illness, infidelity, passion for theatrics, and strained relationships with his children…but he does an admirable job balancing Earl's faults with his many impressive achievements. Earl Brocklesby was many things: a showman, adventurer, and humanitarian. Above all else, he was a businessman, whose two true loves—Reptile Gardens and family—were always inextricably linked and served as the impetus for his business and personal decisions until the day he died.
John Brockelsby Interview
I had the privilege of speaking with John Brockelsby (Johnny B. to most people) about Rattlesnake Under His Hat and his father's lasting legacy. Johnny B. was friendly, outgoing, and candid. Clearly, he holds his dad in high esteem to this day.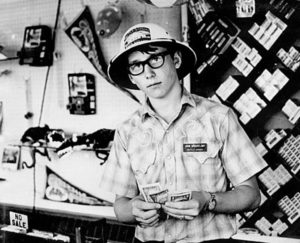 Q: I recently finished reading "Rattlesnake Under His Hat," Sam Hurst's biography of your father, Earl. I found it to be a fascinating look into a very complex man. What are your overall thoughts about it? Do you feel the author did a good job capturing the essence of your dad?
A: We thought Sam Hurst did a wonderful job on it. I especially like how he went through the history of how tourism got started. It certainly did show that dad had quite the foresight way back then knowing that this was going to become eventually a big deal—tourism in the Black Hills, Mount Rushmore, everything like that. When we hired Sam to do this biography, we said we don't want this to be one of those self-aggrandizing rah-rah-rah (biographies). We wanted it to be a true story, so hopefully people who deal with that kind of stuff realize they're not alone and you can still be extremely successful in spite of challenges like depression and so forth.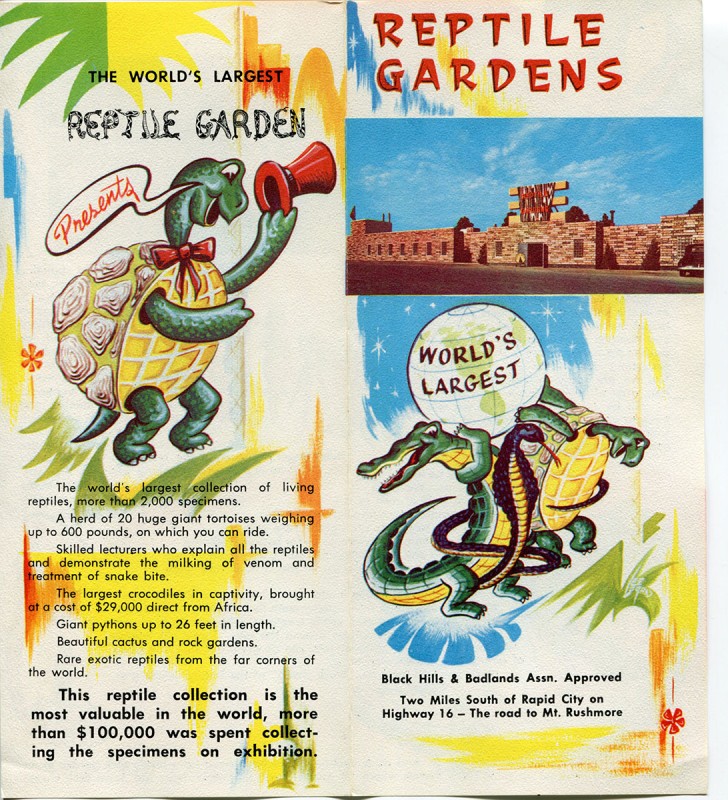 Q: Hurst portrays your dad as a true visionary, but not without his share of flaws. How did the family feel about this no-holds-barred approach? Was there any worry about being too honest?
A: It's what we wanted. Dad took copious notes and kept all his correspondence; there were a few things that we had Sam remove, but they were just talking about certain individuals. That was about the only corrections that we made. All the siblings previewed it and made suggestions, but by and large it was 100 percent Sam. He had access to all these records and volumes of stuff to wade through that encompassed dad's life.
Q: Earl comes across as a natural-born salesman and promoter, the perfect ambassador for the tourism industry, from his early days at Hidden City to his publicity stunt involving daredevil parachutist George Hopkins landing on Devils Tower in 1941. What were the secrets to his success?
A: There were a couple of quite unique marketing things that he did. The original Reptile Gardens was located at the end of Skyline Drive. At that time, Highway 16 was a little two-lane road and the steepest hill coming out of Rapid City ended there. If you were traveling along Highway 16 to go to the Black Hills, you had to go right by the front door. He located the original one at the top of the hill for the specific reason that cars weren't very dependable back then, and by the time they crested the hill, a significant number of them would be overheated. He put in a gravel parking lot where the cars could cool off, then he would run out of his building, jump on their running board, and try to get them to part with 10 cents to watch him jump in a pit and play with snakes.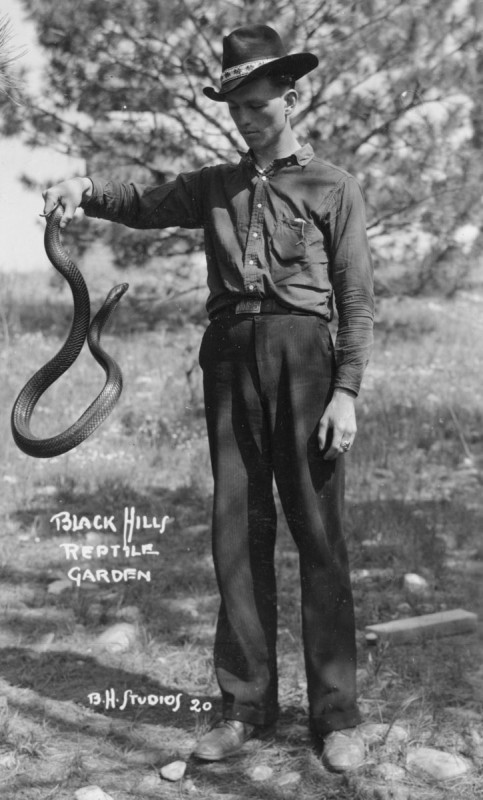 Q: It takes both vision and strong salesmanship to create an attraction like Reptile Gardens and turn it into an enduring success. One of my favorite stories involves Earl betting an employee he could sell a handful of gravel from the parking lot to a tourist for a dime—and winning. What is one of your favorite memories of your dad's sales skills?
A: He loved betting and doing all that type of stuff. He was a very creative and imaginative man with a lot of challenges, too, in his life. My friends in high school growing up and when I went away to college at CSU, a lot of them would end up coming to Rapid City with me on Thanksgiving breaks and things like that. They'd all be welcomed into the house. He was fascinating, because he knew so much about so many things. He was a tremendous hiker and had all these hidden places in the Badlands, and would take groups of my friends out there. They just thought he was the coolest person in the world. As a young kid, that made me feel real good too, because they thought so highly of my dad. One of the other things would be his humanity. With all of his faults, he really cared about people and about those that had way less. He had a lot of people that he helped. Down in Mexico, he had Indian tribes he helped.
One of the things I appreciated so much about my dad was his generosity to those less fortunate.
Q: Would you describe your dad as fearless?
A: He was an adventurer par excellence. He subscribed to National Geographic way back when. In the fall, he would start to do all this research on a location he decided he wanted to go to, and then he would just do it. I remember he told me, 'A lot of my businessmen friends will go to a foreign country, and they stay in a Hilton hotel, they don't leave it, they never experience the country…they can say they've been there, but they don't know anything about it.' His way of doing things was, he would travel very lightly, he always had just a carry-on, plus his camera. He could live a very spartan life. Anywhere he traveled, he wanted to be out in the remote, places where nobody had been. That was a passion of his, and I will admit that I did get part of that, too. I had some good adventures starting back in the 1970s. And '60s, for that matter.
Q: Hurst suggests your parents were non-conformists, or at the very least, had the means to be "slightly disdainful of the dull conformity of the 1950s." I think your underground newspaper at Rapid City High School, On the Other Side of the Fence, Where the Grass is Greener is an excellent example of this: school administrators asked Earl to step in and shut you down, but he refused. Another incident that stood out to me was the way he posed Shirley Tyler alongside grandson Jon-Jon on the back of Methuseleh in 1966, at a time when racial tensions were at an all-time high. It's almost a form of social enlightenment. Do you think this is an accurate portrayal of the family at the time?
A: Yes, especially on the part of my father. Way back in those times, it was very rare that you would ever see a black person in Rapid City. As kids growing up, the Canyon Lake Supper Club would bring in entertainment from around the country and my parents would frequent those places. Sometimes it was black musicians and my father would befriend them. At our house, he'd have this whole group of black musicians over for dinner with the family, so we kind of grew up with that. It was a little unusual, and that was not the case for any of my friends. He very intentionally had that picture of my oldest nephew on the tortoise with Shirley. Her parents managed some apartments that dad had downtown. He knew it was going to be a shock to put that on a postcard…he was kind of giving the finger to the racists out there. It raised a lot of eyebrows from our guests. My father was a little fearless in those areas.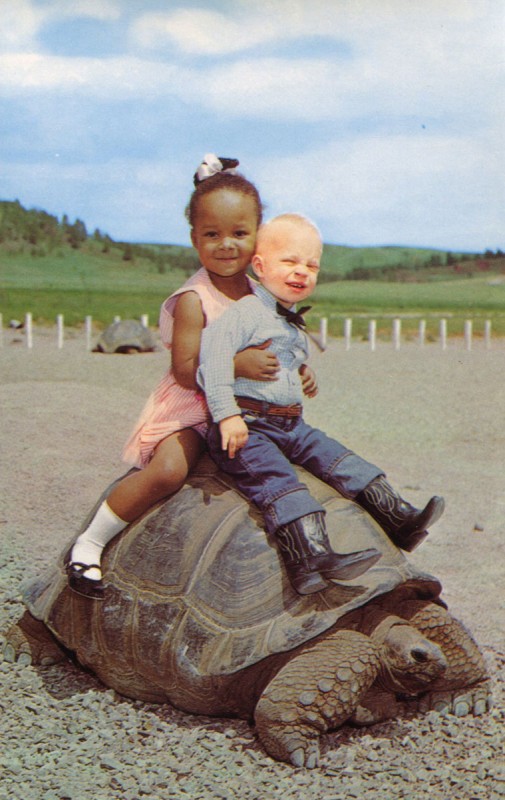 Q: Not all of Earl's business ventures were successful. He was unable to keep Fairyland Zoo going, and his attempt to market squirrel monkeys as pets backfired. Do you think he learned lessons from these early mistakes that made him a better businessman?
A: Dad's brain just wouldn't stop. It was going 1,000 miles an hour, so he was always coming up with different possible ways to make money. Not all of them were successful. He gave me one of the squirrel monkeys from that unsuccessful venture.
Q: How did that turn out?
A: They're not a very good pet.
Q: He even tried to rename them golden monkeys, as I recall.
A: (Laughs). Back in the day, he wasn't above embellishing a lot of different things. He'd figure out how he could try to mitigate the losses by doing whatever he needed to do.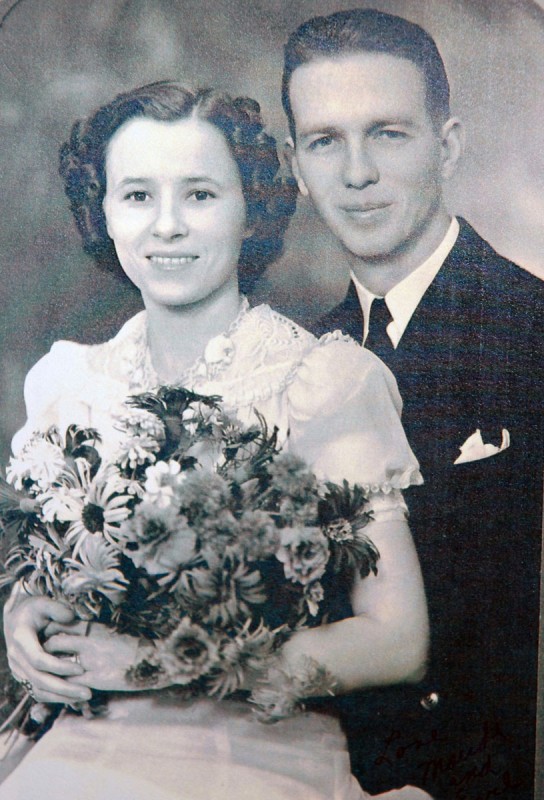 Q: You followed admirably in your dad's footsteps, becoming director of communications and public relations for Reptile Gardens; president of the Black Hills, Badlands, and Lakes Association; and even winning the Ben Black Elk Award for your contributions to South Dakota tourism. What is the biggest lesson you learned from your father to help you do great things yourself?
A: He taught me to listen to people and to be very conscious of who I was listening to. He said, 'some people just talk to hear themselves talking. You'll find some people don't say a lot, but when they do, it's well-thought-out. Those are the ones you need to listen to.' Over the years, sitting on all these different boards, I've been able to take that (advice to heart). There are certain people, when they talk I listen, because I know they've got great ideas, and they're a heck of a lot sharper than I am.
Dad would look down and dad would be very happy.
Q: How do you think Earl would feel about Reptile Gardens' transformation from almost side-show spectacle to an organization focused on environmental conservation and committed to protecting endangered wildlife in order to adapt to the demands of 21st-century tourism?
A: I'm 100 percent confident that my father would be so proud of how the place has evolved and the improvements we've made to the botanical area and our customer service. Dad was always a big believer in that. My cousin Joe, and even my siblings, have become very involved in the place too, even though just me and my sister live here. Everybody has taken pride in the business.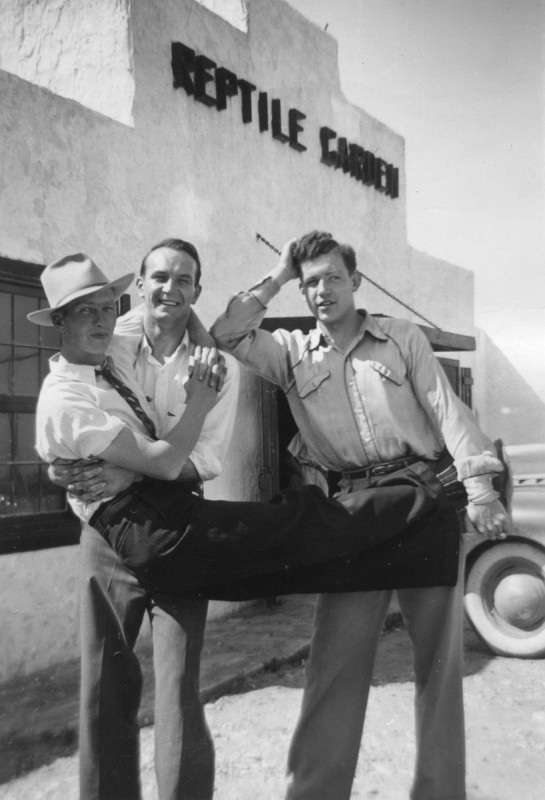 Q: How will Reptile Gardens continue to evolve in the future?
A: If you're not moving forward, you're moving backwards, so it's very important to change with the times. We are very fortunate in that we have a young staff, a number of kids in their 30s and 40s that have been with us for like 20 years. They take tremendous pride in the place just like they owned it themselves, and I am very confident that they will lead Reptile Gardens into the future. I think we're leaving it in very good hands when we turn it over to this next generation.
---
Rattlesnake Under His Hat can be purchased at Mitzi's Books and other select retailers throughout the Black Hills, or ordered online at Amazon.
WORDS: MARK PETRUSKA
PHOTOS COURTESY OF EARLBROCKELSBY.COM