The Hisega Adventure Lodge is the oldest lodge in the Black Hills. It's also one of the few that has spent its entire life as a lodge and not a private residence or other business. What started in 1909 as an exclusive summer getaway for Pierre socialites has been a public lodge, dude ranch, and now a bed-and-breakfast catering to adventure-seekers.
Doane Robinson — the mastermind behind Mount Rushmore — brought a group of young people to the Black Hills on one of his many scouting trips to the area in 1908. They camped in the canyon along Rapid Creek and fell in love with the area. Upon the group's return to Pierre, they began raising funds to build a permanent camp. Business owners, politicians, and other socialites of Pierre agreed to help finance the lodge, including Robert S. Vessey, who was elected as South Dakota's 7th governor later that year. Each of them contributed $100, which entitled them to a two-week stay once the building was complete.
Construction began in spring of 1909, with Doane Robinson overseeing the process. The lodge took less than a month to build and was 50 feet long by 20 feet wide. The main level had a dining room, kitchen, and sitting room, with ten bedrooms upstairs. There were also a number of house tents kept on site for families who preferred to camp during their stay. The Pierre Lodge was officially open for business.
The first years of the lodge were hugely successful; by 1913 it was so popular that a twice-daily train ran from Hisega through Rapid and on to Mystic, so summer visitors could go into town and back in a day with ease. By the end of 1919, tourists started arriving by car, with talks of a highway between Sioux Falls and Chicago increasing the number of people summering in the Black Hills.
The original group owned the lodge until 1937, when it was bought by Carl and Jessie Sanders. The Sanders had been managing the lodge since 1929, and under their ownership, it became the Triangle I Lodge; the same name as their family ranch. They made many updates to the lodge over three decades; they erected a dam on Rapid Creek to create a better lake for fishing, built an annex with additional guest rooms, and installed electricity throughout.
In 1969, Almon "Hoadley" Dean and his wife, Ruth, bought the lodge and changed the name to H-Bar-D Lodge. Hoadley Dean was the president of the Western South Dakota Development Co., whose mission was to promote economic development in western South Dakota. The Deans ran the lodge until Cheryl Rudel of Rapid City bought it and changed the name to Hisega Lodge. Carol and Kenn Duncan bought the lodge in 2008, and began renovating and updating it to modern standards. In 2016, current owners Tara and Mike Flanery bought the property.
Tara Flanery hopes to bring the lodge back to its adventurous roots, which comes second nature as a certified mountain bike instructor. She says, "Something I'm really passionate about is teaching women to ride mountain bikes. I love to see the freedom and the confidence women gain when they're out on the trail." In 2020 she became licensed with the forest service to take groups out on designated trails, and in 2021 added a half-day, guided paddle trip from the lodge to Johnson Siding. The lodge also hosts men's adventure motorcycle retreats hosted by acclaimed off-road motorcycle instructor Bill Dragoo. Retreat weekend dates can be found on the lodge's website here.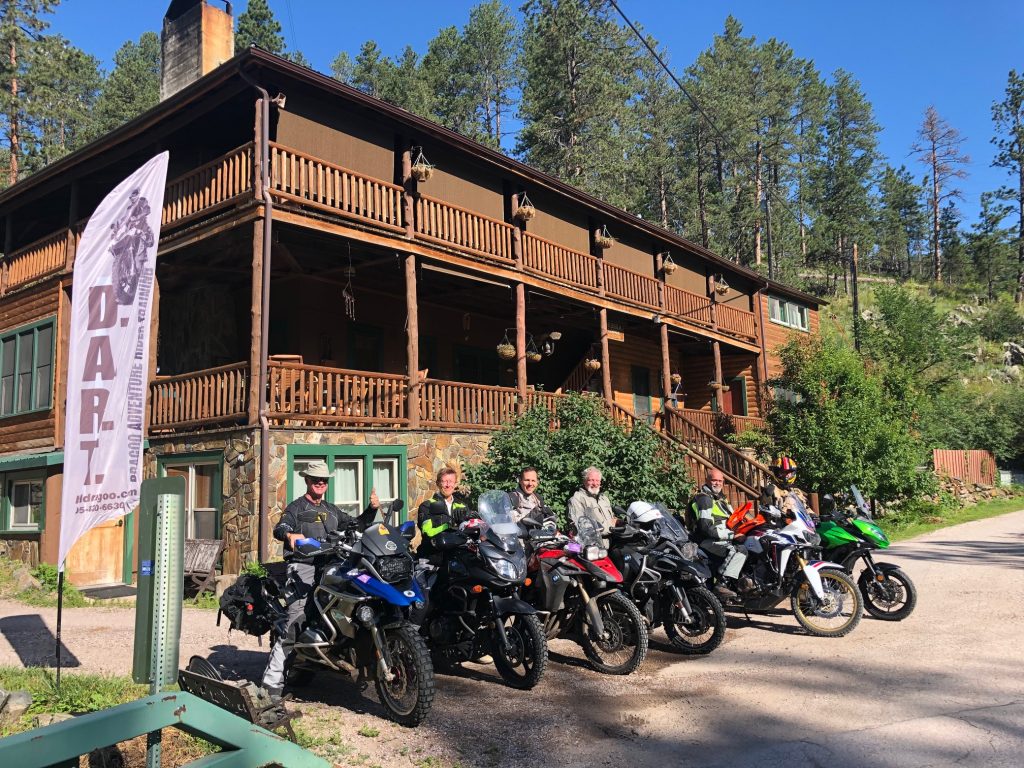 The Flanerys appreciate that some guests have been coming to the lodge for years — even generations — and invite guests to stay in between retreats. They also enjoy hosting groups such as weddings and reunions; Tara leaves the lodge's calendar open until March and then starts scheduling her planned retreats for women's mountain biking and men's adventure motorcycle weekends. Regardless of what brings you to the Black Hills, staying at the Hisega Adventure Lodge is the perfect way to enjoy the natural beauty of the region. While you're there, you'll be part of a long history of relaxation and adventure on the banks of Rapid Creek.
Sources:
At Lake Hisega. (1911, July 20). Argus-Leader. p. 6.
Crary Promises to Increase Facilities Rapid Canyon Line. (1913, April 19). Rapid City Journal. p. 1.
Hisega Pierre Lodge Closed Last Week. (1919, August 31). Rapid City Journal. p. 1.
Lodge is Under Way. (1909. May 21). Rapid City Journal. p. 3.
Sanders Purchase Lodge at Hisega. (1937. June 12). Rapid City Journal. p. 8.
Rooms for rent at Triangle I Lodge. (1962. June 23). Rapid City Journal. p. 10.
Lodge in Hisega Area of Black Hills is Rich in Pierre Community History. (1969. June 30). The Daily Plainsman. p. 12. 

WORDS: ASHLEY JOHNSON
PHOTOS: COURTESY OF TARA FLANERY