With summer in full swing, many families are planning vacations. That isn't always possible when you have little ones at home—finances, lack of PTO, and having nobody to watch the dog can all derail those plans before they even get off the ground. Not to fear; there are plenty of options for a family friendly day trip in the Black Hills where you connect as a family and create lasting memories. The best part is you can do it all without having to commit to an extended getaway.
We've compiled a list of our favorite destinations around the Black Hills (and a little beyond). If you're feeling especially adventurous (and your kids are patient enough not to ask "are we there yet?" every 15 minutes), you could even combine a couple of these.
Happy travels!
---
Storybook Island and Dinosaur Park
For the less ambitious (and those with young kids not content to spend long periods of time in the car), a family friendly day trip around Rapid City doesn't require a lot of travel but is sure to provide plenty of fun. Storybook Island has been delighting children for generations with its beguiling mix of storybook characters, live theater productions, and train ride. The park is open 9 a.m. to 7 p.m. daily from Memorial Day through Labor Day. Admission is free.
Once your kids have had their fill of fairy tales and nursery rhymes, take them to Dinosaur Park for an opportunity to view life-size concrete replicas of dinosaurs. The visitor's center and gift shop (open May through October) is a great place to grab a souvenir and finish your day with an ice cream cone.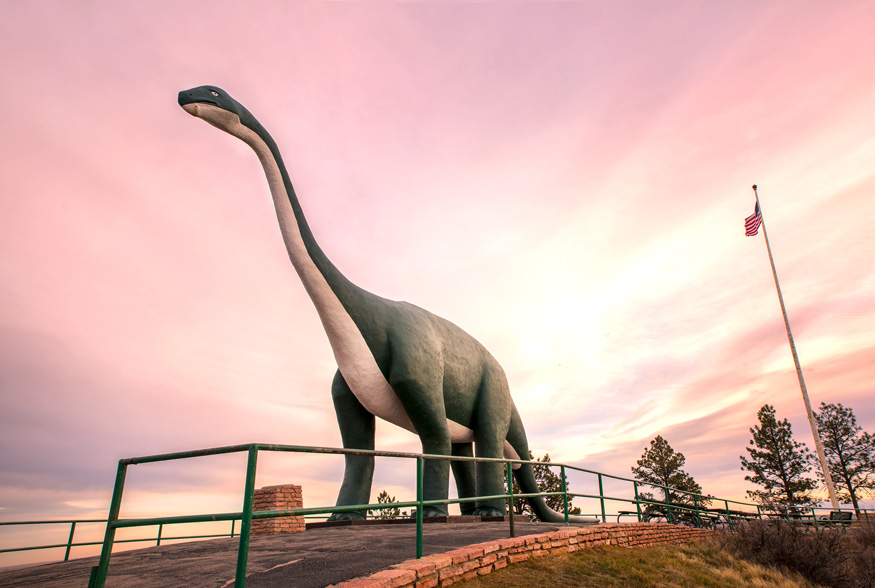 Mount Rushmore and Crazy Horse Memorial
Regardless of how often you have visited Mount Rushmore and Crazy Horse Memorial, those impressive granite carvings never fail to instill a sense of wonder and awe—and they make a great history lesson for kids of all ages. Mount Rushmore is an easy 30-minute drive from Rapid City and offers plenty to do besides standing and staring. You can point out states you've visited along the Avenue of Flags, take an audio tour, walk along the Presidential Trail for close-up views, visit the Lincoln Borglum Visitor Center & Museum, and even enjoy Thomas Jefferson's signature ice cream recipe.
From there, Crazy Horse Memorial is another half-hour jaunt away. Though far from complete, this sculpture carving is no less impressive and provides a glimpse into the traditions and cultures of the Lakota people who considered the Black Hills sacred. Stroll through the Mountain Carving Gallery for a visual look at the story behind the carving; check out the sculptor's log home and studio; and enjoy the exhibits and artifacts on display in the Indian Museum of North America and the Native American Educational and Cultural Center. If you're hungry, you can even grab a bite to eat at the Laughing Water restaurant.
Custer State Park
Custer State Park is so massive—at 71,000 acres, it is one of the largest state parks in the country—you can easily spend a full family friendly day trip exploring all it has to offer. The Wildlife Loop Road is a must, giving you a front-row view to the park's abundant wildlife. You are likely to encounter herds of bison, prairie dogs, mule deer, pronghorn antelope, coyotes, and the famous begging burros. Plan on taking your time and devoting a couple of hours to the loop (especially if the animals congregate in the middle of the road, something locals refer to as a "South Dakota traffic jam").
Don't miss the opportunity to drive along the Needles Highway, designated a National Scenic Byway. It certainly lives up to its billing, offering breathtaking views of the Cathedral Spires and namesake Needle rock formation. Be on the lookout for mountain goats, which often hang out around the Needles Eye Tunnel. Ditch the car for a stroll around Sylvan Lake or a hike to Black Elk Peak, the highest summit east of the Rockies. If seven miles is too daunting, there are plenty of shorter hikes within the park; Little Devils Tower is an excellent alternative. You might even look for the famous hidden Poet's Table (but keep its location a secret)!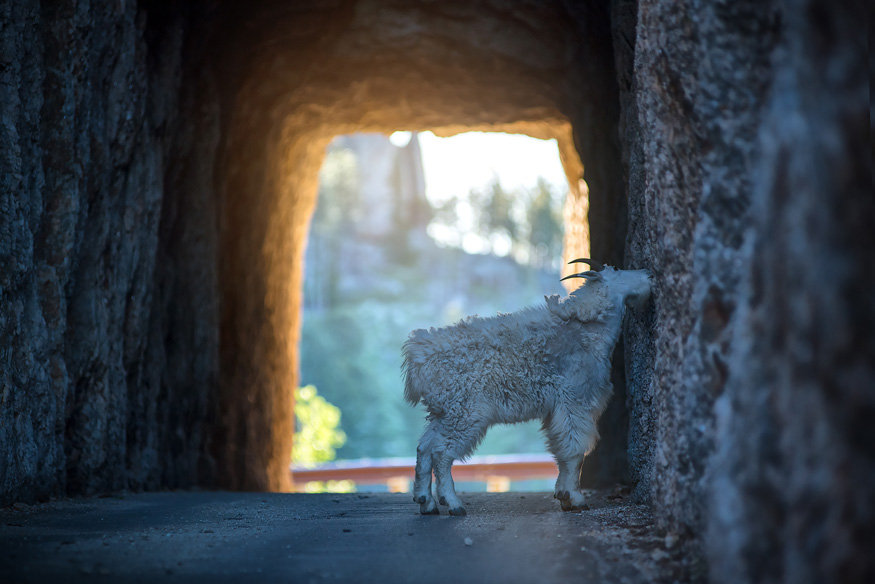 Wind Cave National Park and Jewel Cave National Monument
In the mood for a little spelunking on your family friendly day trip? The Black Hills are home to not one, but two, caves worthy of exploration—and they are conveniently located just a stone's throw apart from one another.
Jewel Cave is the third-longest cave on earth, with crews hitting 200 surveyed miles in June, 2019, and is renowned for its calcite and spar crystals. With 150 miles of mapped passages, Wind Cave also ranks as one of the longest caves in the world and is known for its boxwork and frostwork formations. Both caves are open year-round and offer a variety of guided tours. Aboveground, Wind Cave National Park is a sprawling mixture of prairie and forest, home to a diverse number of animal species including elk, bison, badgers, bobcats, red foxes, and prairie dogs. There are several hiking trails and scenic overlooks and, if you wanted to turn your day trip into an overnighter, the Elk Mountain Campground is a little more than a mile from the visitor's center.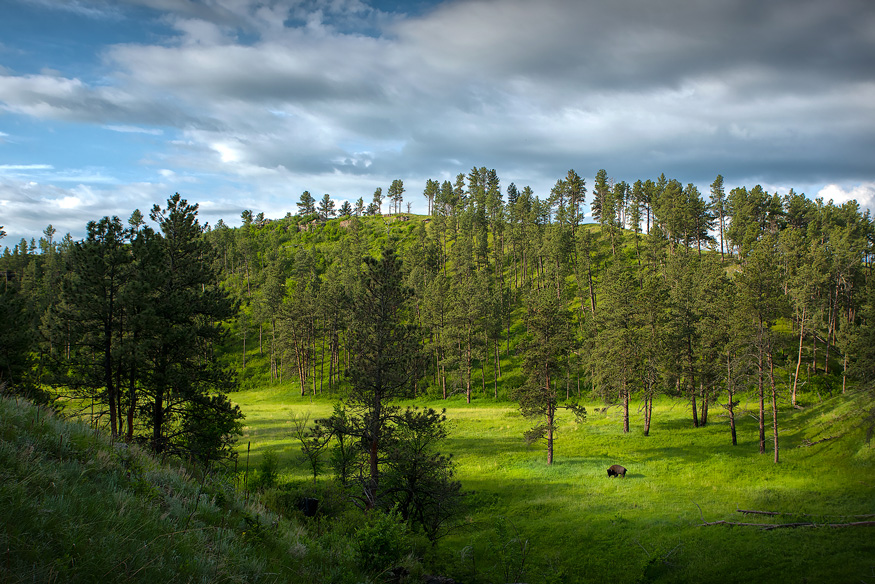 Hot Springs and the Mammoth Site
The Mammoth Site in Hot Springs contains the world's largest concentration of mammoth fossils, with more than 60 remains having been uncovered so far. The bones were discovered by accident in 1974 while construction crews were doing excavation work on a new subdivision and has been an active paleontological dig site ever since. 30-minute guided tours are available, and the building houses a museum with a variety of informative and educational exhibits.
After spending a couple of hours at the Mammoth Site (you won't want to rush through it), there are other attractions in Hot Springs worth checking out. Evans Plunge Mineral Springs boasts the world's largest natural warm water indoor swimming pool, complete with water slides; with a constant temperature of 87 degrees, it's the ideal destination on a cold winter's day. Located in a 19th century schoolhouse, the Pioneer Museum gives you a glimpse of what life was like over 100 years ago with original artwork, handcrafted tools, and other exhibits and displays. The Black Hills Wild Horse Sanctuary features hundreds of wild mustangs roaming freely across 11,000 acres of prairie land. If you still haven't had your share of fun, head to Angostura Reservoir for swimming, boating, or fishing.
Badlands National Park
It's hard to believe this national treasure is a mere 60-minute drive from Rapid City. Half a million years of erosion have resulted in an alien landscape of majestic rock formations jutting above the surrounding prairie like tall-masted schooners plying the seas.
Drive the 30-mile Badlands Loop Road and pull over at as many overlooks as you desire—the views are unique every place you stop. There are several short but rewarding hiking trails if you feel like stretching your legs, and the park's 244,000 acres are home to bison, bighorn sheep, prairie dogs, and black-footed ferrets. The Ben Reifel Visitor Center is home base for a number of ranger programs including guided hikes, lectures, and a seasonal night sky program. A variety of interactive exhibits are designed to teach you about the history, ecology, and paleontology of the Badlands. It's the perfect place to refill your water bottle, too—you'll be glad you stopped when the weather is hot and dry!
While in the area, stop by Robert's Prairie Dog Town for an up-close look at the animals; some will even let you feed them by hand. The Prairie Homestead offers tours of an original sod home inhabited by pioneers over 100 years ago and is one of the last remaining structures of its kind; an onsite gift shop sells antiques, artwork, and snacks. The Minuteman Missile Historic Site offers a fascinating look at relics of the Cold War, including a decommissioned missile silo—a perfect stop for history buffs. And no trip to the Badlands would be complete without a visit to the world famous Wall Drug. Kids (and adults) could probably spend an entire day roaming around the vast complex.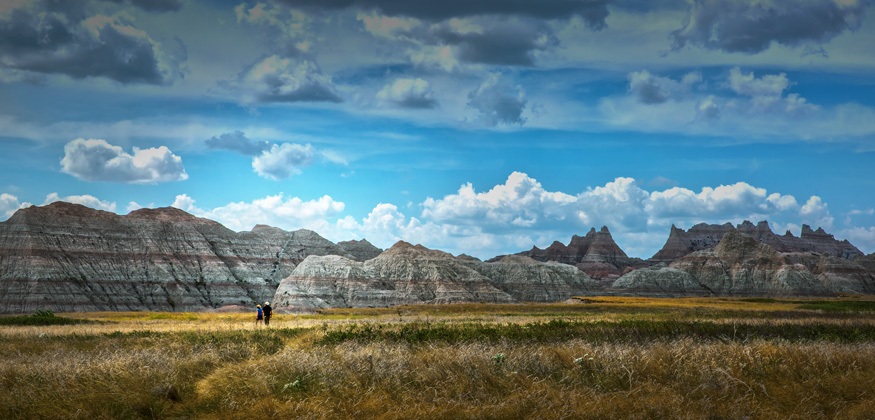 Devils Tower National Monument
For a different perspective, head west instead for a trip to Devils Tower in Wyoming.
This 1,267-foot tall granite protrusion was considered sacred by Native American tribes, who believed the vertical striations lining the rock were made by a giant bear clawing at two children seeking refuge on the peak. The monolith is instantly recognizable to fans of Stephen Spielberg's 1977 film, Close Encounters of the Third Kind. A pair of trails around the base of the Tower offer unique and awe-inspiring views and provide you with a chance to see wildlife.
Don't miss Wind Circles, the third in a series of seven sculptures designed by a Japanese artist to promote world peace and introspection. The Devils Tower Trading Post is the perfect place to stop for a bite to eat; you can fuel up on hamburgers, hot dogs, and more before the long drive home. Besides, what family friendly day trip is complete without a hand-dipped ice cream cone?
---

Copy courtesy of Black Hills Parent Magazine, your resource for everything local. From family fun to expert advice, they'll make sure your visit to the Black Hills is one for the memory books. Check them out here!